What are nootropics and adaptogens?
Before we jump into NielsenIQ's coverage on brain health and the ingredient groups that are making these claims possible, let's first review what nootropics and adaptogens are.
Adaptogens consist of ancient plants and herbs to help the human body deal with stress. When our body is undergoing stress, it releases a chemical called cortisol, and adaptogens help regulate this. There are several types of adaptogens: ashwagandha, reishi, rhodiola, holy basil and eleuthero.
Nootropics are substances that help the brain function more productively. These substances work in a few different ways. They help with blood flow to deliver more oxygen in the brain, they reduce swelling in the brain, and they protect the brain from toxins. The most popular nootropics are lion's mane, adaptogenic herbs and B vitamins.
---
How are consumers searching for these claims?
The Zero Moment of Truth, a study done by Google, discusses how consumers often research products online, before the brand can even capture the customer. NielsenIQ has access to consumer search data across major retailers like Amazon, Target, Walmart. This search data empowers brands with shopper signal identification through key claims and derived product attributes growing in search volume for their category.
For example, adaptogenic searches are up 47% from March 2021 to March 2022 on Amazon alone. Consumers are looking for tea, vegetables and snacks that have adaptogen claims.
---
What categories are claiming adaptogens and nootropics?
A key to understanding a trend is being knowledgeable about what brands and categories are making certain claims, how they are making those claims on-pack, and how well they are selling. Since the adaptogen trend is still in its early stages, we are seeing low numbers for on-pack claims in the categories below. This means there is still a lot of opportunity for growth in this trend in all categories. The chart below displays the top categories with the most on-pack adaptogen claims: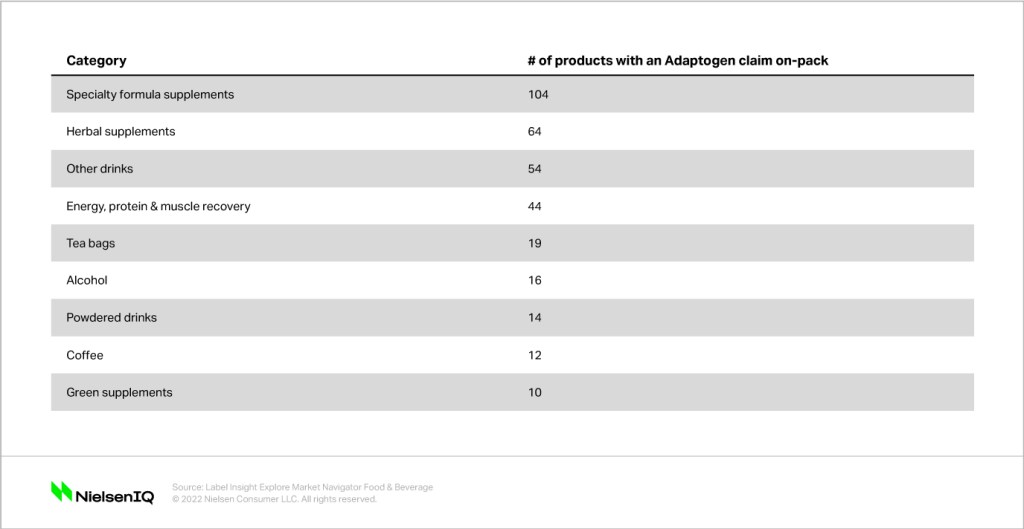 Adaptogens tend to be more widely used in all food and beverage and supplement categories. However, nootropics tend to be more available in the supplements categories. The chart below highlights which categories are currently leading with on-pack nootropic claims: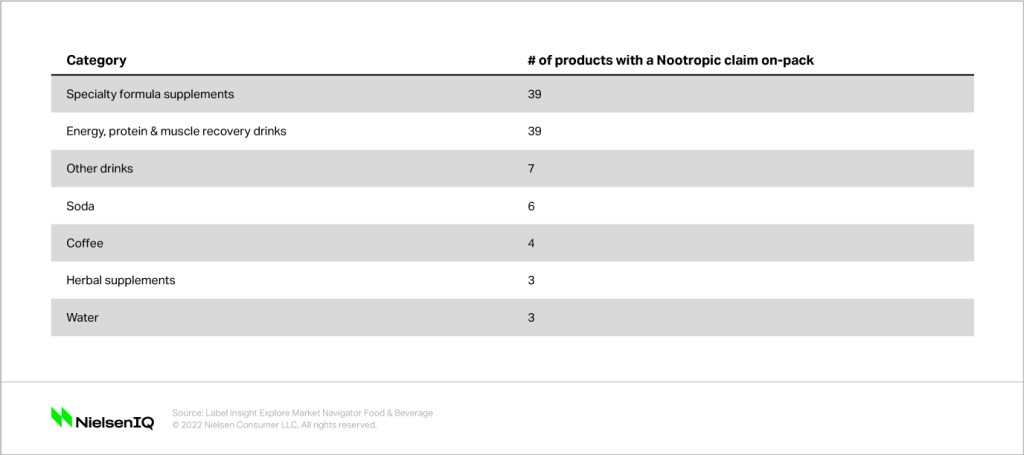 Using the NielsenIQ Product Insight tool, we can see how well adaptogens are selling using the characteristics for both Nootropics and Mushrooms. Mushroom ingredients have grown 18% compared to two years ago, with total sales of $3.4 billion in the latest 52 weeks. Adaptogens have been growing at a similar rate as nootropics, with total sales of $4 billion over the latest 52 weeks.
If you follow the customer journey, we can see that these searches are growing online in these categories. This is where the customer is first searching for these trends, after doing their research and discovery. We can then see if the searches are turning into sales. Nootropics and adaptogens are a new trend, but are heading in the right direction.

---
Staying at the forefront of ingredient trends
As claims continue to be the leading purchase drivers for consumers, it is important for brands to stay on top of these trends. We can see how brands are starting to innovate to speak to their consumers, and the numbers prove it.
NielsenIQ offers the most granular insights into product attribution as well as ingredients, nutrition facts, search data, market measurement data, label claims and certifications and more so CPGs and manufacturers can stay informed and act on these high value opportunities.