The changing Asia Pacific FMCG industry
NielsenIQ Retail Measurement Services (RMS) data shows that the FMCG industry in the Asia Pacific region (APAC) remains strong with 5.2% growth in the first quarter of 2022, a slight dip from the 5.9% growth recorded last year. Rising inflation is one of the key factors that caused this slowdown.   
With over 26 million offline stores across the region and a fast-growing e-commerce channel (accounting for nearly 20% of FMCG sales) the APAC FMCG retail landscape is dynamic and highly fragmented.  COVID –19 had a major impact on the industry with consumers adapting to new and restricted lifestyles, leading to changed consumption and buying patterns, some of which go beyond the peak pandemic period. 
Now, as we emerge from the mobility restrictions and safety protocols imposed during the pandemic, rising inflation has become a major concern for consumers. Manufacturers and retailers should expect the retail landscape in Asia Pacific to further evolve and build their business strategies to answer the emerging needs of the consumers. 
---
Grow your brand in the most important FMCG retail channels 
Capitalizing on key retail channel trends to create competitive advantages and drive positive outcomes for your businesses is key to winning in this complex environment. 
Check out our infographic to learn more about the key FMCG retail trends impacting Asia Pacific today and in the near future, with a focus on the three most important retail channels in the region.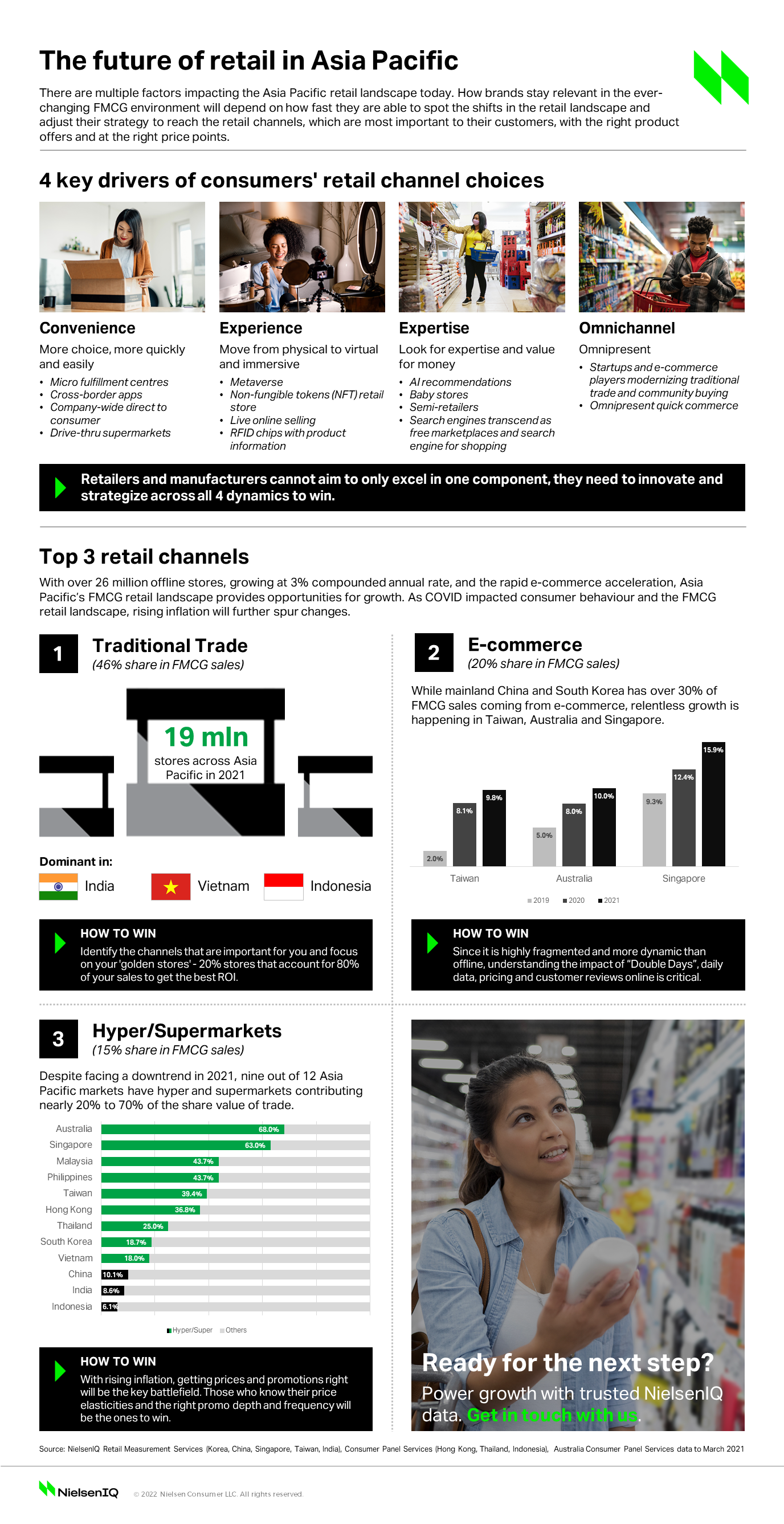 ---
Mapping the shift in FMCG retail channel trends
Trends shaping the global FMCG retail landscape
The state of FMCG in Asia Pacific and the keys to winning