The evolution of SMBs
Over the course of the last decade, countries around the world displayed a new economic attitude towards small and medium-sized businesses (SMBs), recognizing their contribution to economic growth and stability.
Consequently, smaller brands are taking up a growing piece of the pie, showing consistent growth across all regions.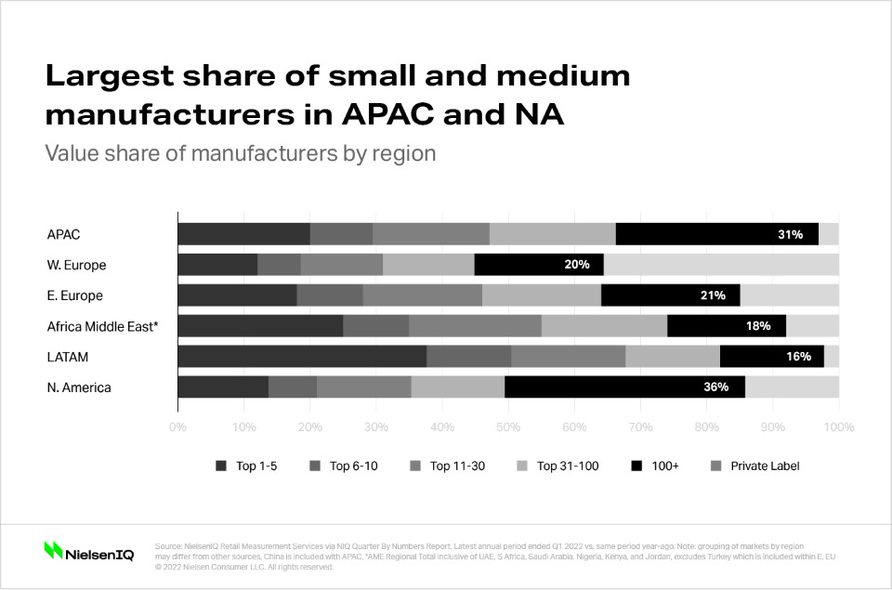 While countries made major moves such as funding for start-ups, consumers are also showing a shift in attitude towards those brands.
Official definitions of SMBs are usually centered around the number of employees, total revenues, and contribution to GDP—but how do consumers themselves define them?
According to NielsenIQ data, among the leading traits according to global respondents are that smaller brands tend to be "local" (33%), "independent" (31%), and "unfamiliar" (27%). Large brands, on the other hand, are viewed as "very popular, recognizable, or world-renowned" by 46% of those surveyed.
These distinctions form a very compelling baseline for brand perception, where small and medium-sized businesses can strive to hone and create demand for their strengths as new, different, or locally affiliated options for consumer interest.
---
A quick look at SMBs in Asia Pacific
The Asia Pacific region is leading the pack in terms of driving influence, albeit at a slower pace than most. The breakdown of markets shows an overlap when it comes to both growth driving influence and pace of growth. The market to look to right now is Indonesia, which shows a 24.4% growth by the end of Q1 2022 in comparison to the same period last year.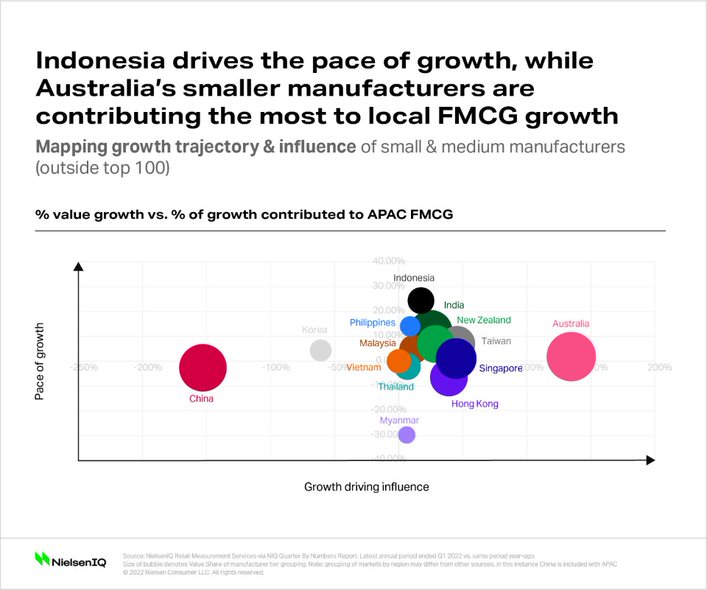 ---
The consumer is also evolving towards smaller brands
The pandemic shifted consumer buying dynamics in more ways than one, and a preference towards smaller brands (versus well-known and popular brands) was one of them.
NielsenIQ's global study, the 2022 Brand Balancing Act*, shows that more than half of the respondents in Asia Pacific (58%) have started buying a greater variety of brands, across multiple categories than they did before COVID-19. The highest ranking on that sentiment was China at 67%, closely followed by India at 63%.
It is also important to note that in China and India 61% and 60% respectively of respondents claimed that they plan to more frequently purchase smaller brands in the future, indicating they feel these brands are better suited to their needs.
In Indonesia, 58% of respondents said they preferred to buy locally made products from small businesses in their area.
This preferential buying direction is likely influenced by two factors—the perception of authenticity of product claims and pricing.
When it comes to pricing, it is no secret that inflation has been a world-wide influencing factor in purchasing behavior. In India and Indonesia, 63% find that small brands are usually cheaper or more cost-efficient, while in China 69% of consumers agree.
---
What's next for SMBs?
Market and consumer indicators show signs of an indisputable fact: the future belongs to SMBs.
There are three pillars of success for you as a small business owner:
It is critical for entrepreneurs and key decision makers for small manufacturers to stay connected to the most accurate and up-to-date information. Be sure to take the necessary steps to ensure you are keeping up with the ever-changing SMB landscape.
---