Focusing on what matters
With limited analytics budgets available for most small and medium-sized businesses, it is important to identify the opportunities that are within reach and focus on the approaches that will matter most.
With that in mind, NielsenIQ has developed a framework to help smaller brands scale growth. Amid supply chain challenges, inflationary pressures, and cautious consumer spending intentions, brands need to orient their strategies around a strategic playing field of four key insight bases: consumer brand preferences, performance benchmarking, trend-cycle timing and meaningful differentiation. Successful brands today are those that take each of these baseline considerations to heart to win with consumers.
The strategic playing field for small and medium-sized businesses to scale growth
Four bases to successful brand strategy in 2022 and beyond
"The traditional pathways to brand distribution have evolved at the same time where consumer needs and reasons for choosing a brand have fragmented," says Global Director of NielsenIQ Thought Leadership, Lauren Fernandes.
"There's a world of nuances and unique opportunities within today's strategic playing field for small and medium-sized businesses. Success requires quite the balancing act, with a focus on the specific value consumers expect and associate with the brands they've chosen to buy."
---
A baseline for brand perception
Around the world, official definitions of small and medium-sized businesses are usually centered around number of employees, total revenues, and contribution to GDP—but how do consumers themselves define them?
Among the leading traits according to global respondents are that smaller brands tend to be "local" (33%), "independent" (31%), and "unfamiliar" (27%). Large brands, on the other hand, are viewed as "very popular, recognizable, or world-renowned" by 46% of those surveyed.
These distinctions form a very compelling baseline for brand perception, where small and medium-sized businesses can strive to hone and create demand for their strengths as new, different, or locally affiliated options for consumer interest.
---
Delivering value in inflationary times
Inflationary pressures are changing the game for how brands can justify their worth and remain aligned to the core values sought by consumers. The good news for small and medium-sized businesses is that despite being largely "unfamiliar" in terms of notoriety, consumers are considering a wider variety of brands when deciding what to buy.
In fact, more than half of global consumers surveyed (51%) say they're buying a greater variety of brands than they were before COVID-19. This increases the potential for consumers to actually purchase smaller brands that may have previously only been considered for purchase.
Consumers are also largely dedicated to finding their perfect brand match— where 67% of global respondents feel that if they look hard enough, they can find a brand that fits their exact needs. When it comes to understanding these needs, at a global level it's clear that among a list of reasons to purchase from a brand, functional reasons are of utmost importance for an average of 86% of surveyed consumers. As prices continue to rise across categories, affordability is a top reason backing this trend in functional buying.
Prioritizing functionality is key to motivating purchases and many smaller brands are already proving their worth by aligning to consumer values. In fact, 48% of global respondents say they plan to buy more from smaller brands in the future as they're better suited to their needs. The small and medium-sized businesses who can secure willingness to spend, and alignment to top motivators for purchase, are most likely to benefit from these updated preferences.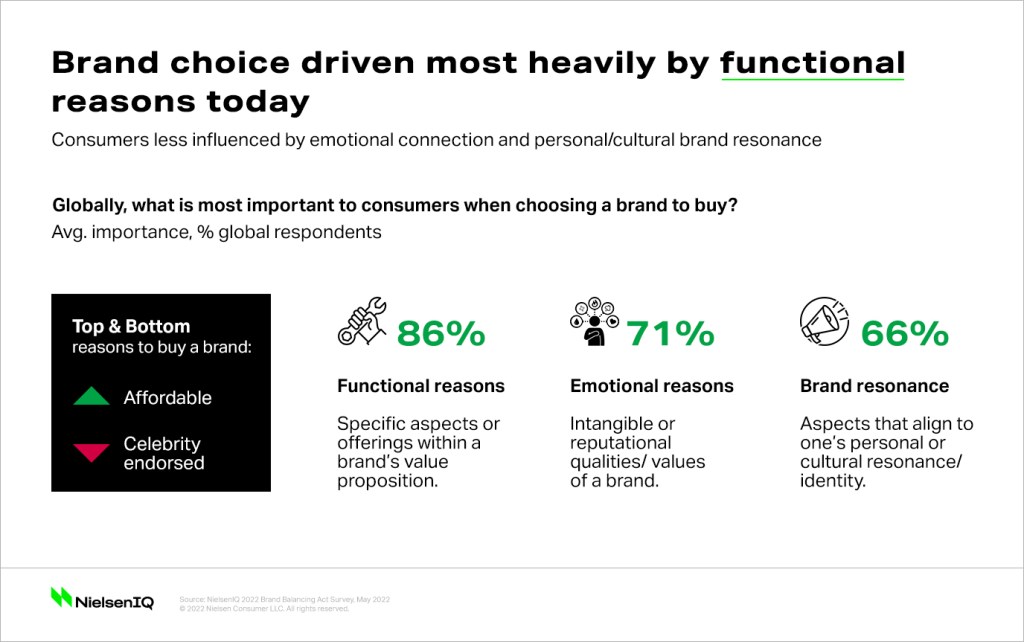 ---
The rough, but rewarding, road ahead for small and medium-sized businesses
Macroeconomic factors like inflation, supply chain delays, and worker shortages have intersected with disruptive changes like pandemics and war, leading to a challenging playing field for brands to compete in.
This combination of influences has created a perfect storm for small and medium-sized businesses to connect with consumers. But that same storm could shadow smaller brands before they can scale. Large corporations have leverage against inflation and supply chain problems that smaller enterprises often struggle to weather, making the balancing act for small and medium-sized businesses a crucial, but potentially rewarding effort at this specific point in time.
---
A world of brand-sized learnings to come
Looking ahead, there are key learnings found within each of the four bases of NielsenIQ's strategic playing field for smaller brands.
Beginning with consumer preferences, the data highlights unique motivators and values that emerging businesses can leverage for success. From the lens of performance, we will review the "reshuffled deck" of manufacturers globally, assessing where smaller manufacturers have outperformed and where growth has favored big brands. Lastly, we explore two important angles within the scope of innovation. Here, we identify opportunities and hallmarks of innovation both past and present, which can serve as inspiration beacons to innovating brands of all sizes.
Preference: Nearly 60% of consumers indicate a preference to buying smaller or larger brands. We review the differences in consumer mindset across the spectrum of brand preference, from the most Agnostic of brand buyers to those with Exclusive brand preferences in mind.
Benchmarking Performance: Learn where small and medium-sized businesses have outperformed their large brand counterparts.
Innovation Trend-Cycle: What are the trendsetting mentalities of consumers today? Explore case studies of smaller brands who have navigated the road to key niche markets that reached the mainstream.
Meaningful Differentiation: Unleash the signature style and standpoints of a brand differentiated in the right ways. Review three hallmarks of smaller brand differentiation that are indicative of demand shifts to come.
As the world of small and medium-sized businesses continues to evolve, NielsenIQ will provide ongoing updates and further detail on the findings of our global investigation into the 2022 Brand Balancing Act.
Stay one step ahead by staying up to date.
Don't miss out on latest insights, offers and opportunities by NielsenIQ.