6 factors contributing to volume sales decline
From 2021 to 2023 inflation helped drive value sales of CPG products up +13%, while volume sales declined 6%. Consumers are reducing their spending, and investors expect that ongoing price hikes won't be enough to sustain overall revenue growth for CPG players.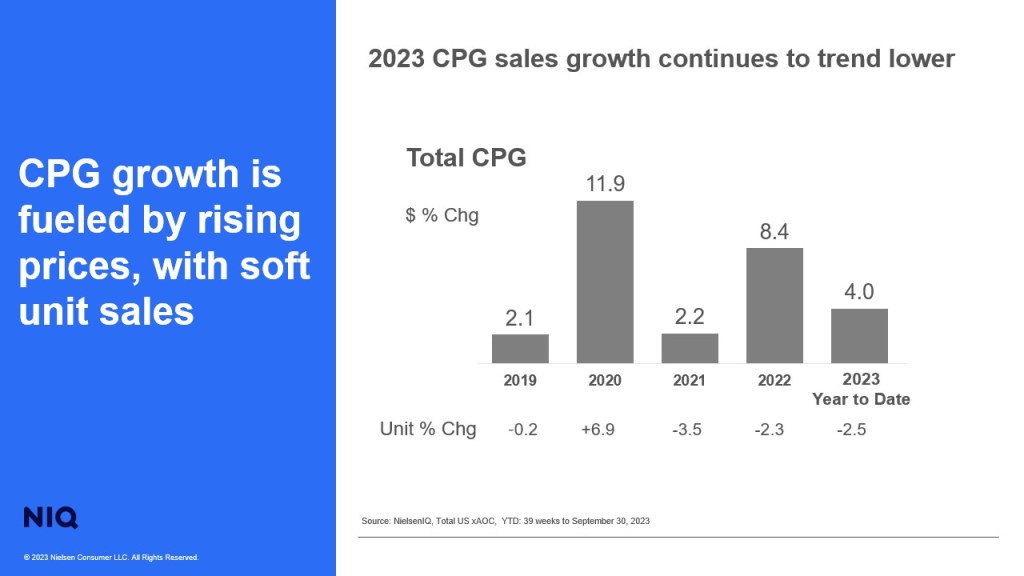 There are a variety of factors stemming from price increases that impact food volume softness:
1. Consumers are sticking with the essentials
In today's economic climate, essentials matter more than ever. NIQ survey insights found that reducing non-essential purchases is the #1 savings strategy for 31% of Americans. What's more, 74% of households prioritized essential item purchases in the past 3 months.
In a survey around inflation attitudes, consumers reported that if prices continued to rise in the next six months, they would cut spending on items like make up and beauty supplies, alcohol, chocolate and candy, and meal kits.
2. A shift to larger sizes
Size matters when it comes to savings. 29% of consumers are buying in bulk to reduce the cost per use of CPG products. The data shows that food unit sales have declined faster (-2.4%) than equivalent volume (-1.4%) in the past year, indicating a clear preference for larger-sized products—but it's important to note that overall volume is down for both, confirming that consumers are making more calculated purchases and contributing to a volume sales decline.
3. SNAP program reductions
In 2020, Congress enacted temporary benefit increases to the Supplemental Nutrition Assistance Program (SNAP) to address food insecurity during the COVID-19 pandemic.
These emergency allotments ended March 1 of 2023, reducing SNAP recipients' spending power to pre-pandemic levels, amidst high inflation. 
4. Food bank usage on the rise
The struggle to put food on the table is widespread, and food bank usage has surged in the past year due to persistently high food prices. Estimates suggest that 1 in 7 (14%) Americans now rely on food banks, with 65% of these organizations reporting increased demand, totaling 46 million people.
5. Shifting meal occasions
Changes in where consumers eat their meals are also taking a toll on overall CPG volume sales. Along with increased competition from the food service sector, more consumers are heading back to the office. More meals happening away from home has implications for food consumption and cleaning and paper product usage.
6. Online food shopping is gaining momentum
More consumers are turning to online shopping to find deals and simplify their lives. As a result, unit sales are gradually shifting to the online channel, impacting in-store volume trends.
Data from NIQ's Omnichannel Intelligence solutions reveals that sales of food purchased online are growing at twice the rate of in-store sales, with a 22% increase compared to 10%.
While food's share of online sales currently lags other departments at 8.0%, it's growing steadily, and NIQ's latest RMS data verifies that more units are shifting online, impacting and in some cases contributing to a sales decline in-store.
---
Pivoting from price to drive growth
Marketers will need to work a bit hard to keep consumers engaged as they shift their spending priorities. Here are a few tips for driving growth over the next few months:
Understand how consumers are currently managing higher prices and an increased cost of living.
Consider growing consumer cohorts —aging consumers that control a disproportionate share of spending power in the US, and growing populations of multicultural consumers.
Shift to pricing and promotion strategies that aim for long-term profitability over short-term gains.
And of course, closely monitor volume sales and the impact of ongoing inflation.
As consumers search for savings, strategies that prioritize value and a consumer focus will win the day and avoid further sales decline.