Consumers have revamped their hierarchy of health, wellness and well-being needs
An enduring pandemic, the consumer prioritization of well-being, unpredictable inflationary prices, and waning product availability are all factors that are both helping and hurting the global state of consumer well-being. Just as people are quitting their jobs in the great resignation to find something better- the "great grocery edit" in 2022 will see consumers intentionally edit their baskets, re-write their grocery lists, and quit brands all together for options that better meet the necessities of health, well-being, value (of both price and purpose) and availability. Today's consumers, with a heightened state of needs and challenges, are pausing at the point of purchase to ask themselves, "do I need this?"
It's no surprise that consumers now see well-being as a necessity. To consumers, health, wellness, and well-being is now a substantial consideration in their everyday choices. It's everything and everywhere, challenging meaningful relevance in every CPG category that a consumer chooses to buy.
To understand where consumers' hearts, minds, and wallets are headed, players in the CPG market must first understand their revamped hierarchy of needs. NielsenIQ recently identified a globally relevant hierarchy that breaks down the core health, wellness, and well-being needs of today's consumers into five key areas of priority:
Around the world, "do I need this?" can unfold and translate in a number of different ways, depending on personal prioritization along the new hierarchy. What are the underlying questions within this question?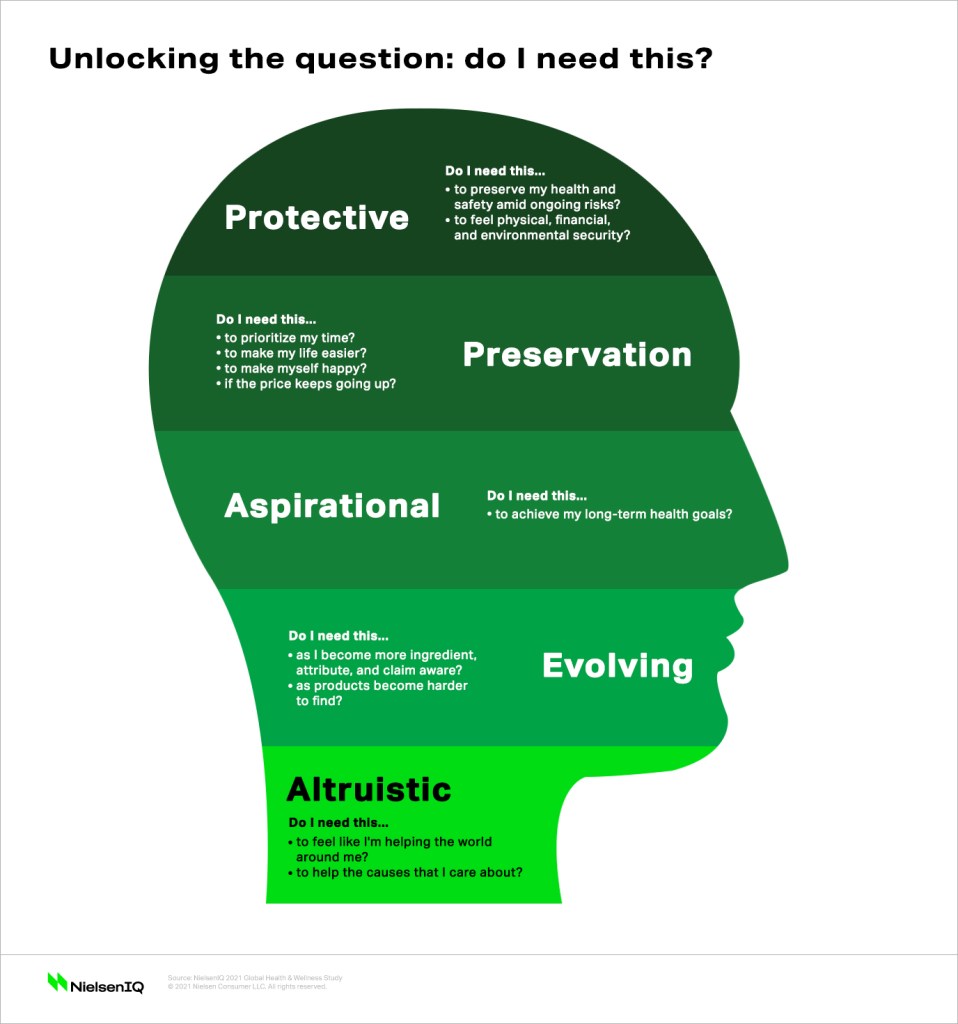 Take note, consumers will not hesitate to dump the brands that aren't delivering on the needs that are now deemed a personal priority. This dynamic will fluctuate as the retail environment continues to be squeezed by inflationary and supply chain challenges. Needs and priorities will likely shift again. Despite another year of unpredictability, consumers will fight to maintain any sense of control by flexing their power of choice and choosing their way towards change.
---
Can the well-being revolution upend the era of excess consumption?
Beyond catering to the needs of now, there are signs of bigger changes ahead. While the movement towards mindful consumption has been around for many years, there is something in this new well-being push that feels different. It feels more personal, dire, and needed. Can the well-being revolution actually upend the era of excess consumption?
In looking at examples in-flight right now, there are signals of change in the air. In China, Alibaba's Singles' Day, a holiday typically all about excess consumption, took a different approach this year toward mindful and purposeful consumption. This year, the company promoted a series of initiatives in line with Beijing's heightened emphasis on environmental sustainability, inclusiveness, and social equality. Within this year's festivities, Tmall marketplace issued $15.6 million (USD) worth of "green vouchers" to encourage purchasing decisions that "contribute to an environmentally friendly lifestyle." The potential for this shift to generate a significant impact is substantial, as Alibaba's Singles' Day last year netted over $100 billion (USD) last year.
Another example can be seen in this year's build-up to the traditional holiday shopping season in the US. As supply chain challenges loom over this holiday season, consumers are realizing that there are plenty of options for gift-giving that don't involve closely monitoring package tracking alerts. Instead, there is an undercurrent of health, well-being, and sustainability swelling this season. Watch for signs that consumers are thinking about making purchases that are healthier for themselves, for their communities, and more responsible for the planet.
Shoppers are expressing a rising appetite for shopping local, experiential gifts that empower or educate, gifting charitable donations, or opting for sustainable attributes and altruistic promotions like "buy one, donate one" and #BuyBlack Friday to support Black-owned brands during the holiday season.
---
Be essential for purpose-driven consumers in 2022
2021 has been a year of recalibration, reflection, and resilience—and 2022 will see the fruits of those efforts magnified. Consumers will be even more decisive, more in tune with their needs, and more discerning with their product decisions. Note the shift in the tone of consumerism. Necessity will be the strongest consumer driving force of 2022. Pending priorities and need states, consumers will show their willingness to pay and willingness to search for products that address real-life needs and challenges. How in tune are you with the new hierarchy of health and wellness needs? In the year ahead, the success of manufacturers and retailers will directly correspond to how well they show up for consumers in their time of "need."
This article originally appeared in Supermarket News.
Stay one step ahead by staying up to date.
Don't miss out on latest insights, offers and opportunities by NielsenIQ.