66%
of surveyed global consumers agree that environmental issues are having an adverse impact on their current and future health
34%
of surveyed global consumers are more likely to buy products with sustainable credentials than 2 years ago
68%
of surveyed global consumers are willing to pay more for products that support communities and vulnerable groups
Globally unified through the impact of living alongside COVID-19, many consumers today feel awakened to how their individual purchase decisions and experiences can collectively affect us all. The realities of air pollution, supply chain disruptions and how supporting local origin can be good for the individual, their local community and the planet are just a few ways in which pandemic living has heightened attention around altruistic health and wellness needs.
From environmental challenges, to equal access to healthcare for all and protecting our most vulnerable, there are many ways in which consumers are prioritizing the idea of a healthy world, in addition to their own health.
Global measures of consumer sentiment indicate that while many prioritize altruistic needs less so than other needs, there is considerable willingness to pay more for products with certain altruistic attributes or features. For example, 72% of surveyed respondents around the world say they would be willing to pay a premium for products that claim to be sustainable – where, 52% would be willing to pay a little bit more, and 20% of global consumers would be willing to pay a lot more for sustainable products.
---
Mainstream values that produce a healthy world
The concept of altruistic health and wellness is no longer in its infancy. For many consumers, their baseline expectations are for products to have clean, simple and sustainable ingredients. This is driven by heightened consumer awareness of how their individual product consumption ladders towards living in a healthy world. U.S. measures of consumer searches and retail sales exemplify just how mainstream altruistic needs have become. There has been strong, double-digit growth in the number of searches for vegan and cruelty free products, meanwhile, the swift pace of sales among clean ingredients (complexly defined by NielsenIQ, but summarized as being free from parabens, sulfates, phthalates, artificial colors, artificial fragrances and 600+ other ingredients) has outpaced sales growth of the overall beauty and personal care category.
+68.2%
growth in searches for 'vegan'
+70.1%
growth in searches for 'cruelty free'
Beyond the scope of clean ingredients, there are many other pockets of growth within the sustainable product umbrella. From products backed by socially responsible organizations (+27% vs. 2019), to those that are manufactured with animal welfare in mind (+24% vs. 2019), there are many examples where products have aligned to causes with growing social gravity.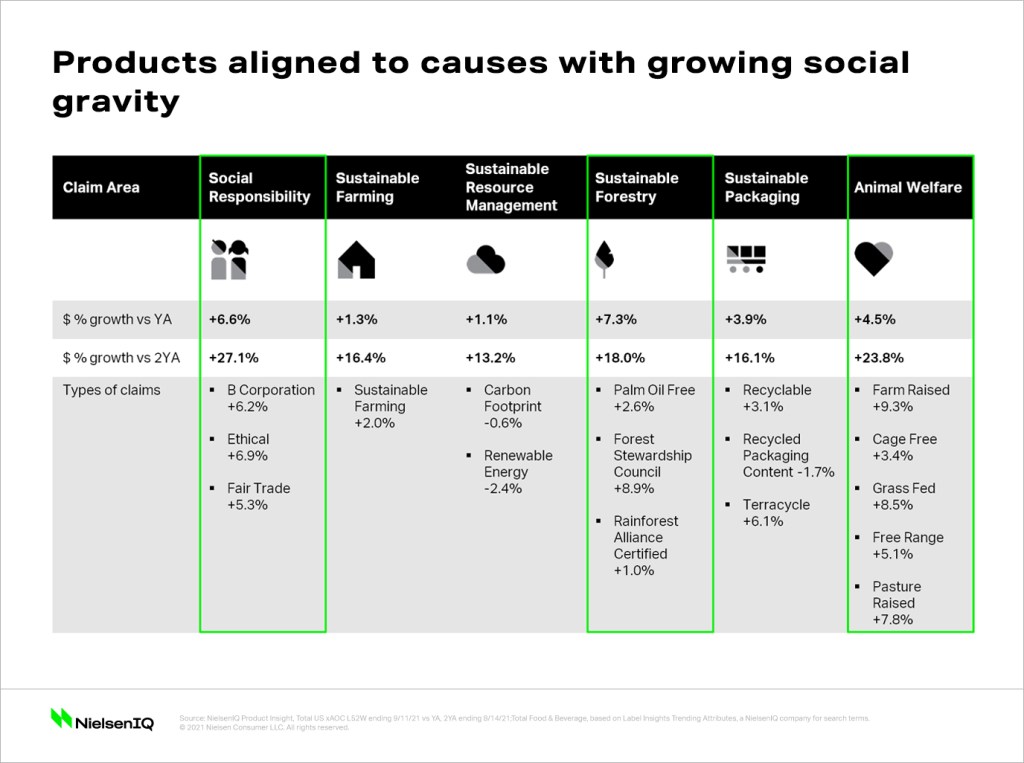 ---
All-in on clean label
Strong demand and continued growth have been constants in the world of clean label products. But interestingly enough, the leading "clean" brands today represent a mix of both old favorites and emerging up and comers. What unites these leaders is the common mission of producing products for healthy consumers who are striving to live in a healthy world.
Notably, Shea Moisture hair care products and Dr Bronners soaps both saw strong double-digit U.S. sales growth of 20% over the past year, likely driven by their long-term commitment to clean and sustainable beauty.
Some of the smaller brands that have made a splash include B.tan sunless tanner, and Sky organics personal care products, who have won with their commitment to clean ingredients without sacrificing performance.
Growth in clean for established brands as well as new
Shea moisture hair care
$11.2MM, +20.8%
We strive to be sulfate free, paraben free and more, whenever possible. Tested on our family for four generations. Never on animals.
B. Tan suncare
$2.8MM, +50.1%
We love animals, so we don't test on them. And we love your bod so we keep all the nasties out of our products.
Dr. Bronners bath & shower
$105MM, +19.9%
Only the purest organic and fair trade ingredients—most products vegan and certified to the same organic standards as food!
Sky organics HBL
$3.8MM, +39.8%
Ours is a family deeply connected to nature and exploration, seeking travel and new experiences, always learning and engaged.
Source: NielsenIQ Retail Measurement Services, Product Insider, powered by Label Insight, Total US xAOC L52W ending 5/22/21; Beauty & Personal Care
---
Get ahead of the sustainability curve
While sustainability in and of itself is not new to the consumer packaged goods sector, the ways in which products are evolving to embody sustainable behaviors is constantly changing.
Take for example B.O.B. (Bars Over Bottles) a Brazilian beauty bar brand which touts water-less, plastic and chemical-free formulations that aim to reduce waste and preserve the world's rivers and oceans. Low-waste products are commanding a swiftly growing spotlight with the U.S. haircare category as well. In fact, shampoo and conditioner bars, were the 9th most-searched hair care trend in early 2021 and offer a convenient and eco-friendly alternative to traditional bottled alternatives.
Similarly in Asia, Hong Kong skin care brand, Mono, has embodied a low-waste mentality of their own. Purchases include an empty bottle and soluble tablet that customers are instructed to combine with water in order to use. Leaving consumers to incorporate water to the product themselves results in a world of economical and environmental savings: fewer trucks and less packaging…even the wrapping of the product tablet is 100% recyclable. 
Interest in low-waste hair care is growing
Shampoo and conditioner bars were the #9 most searched hair care trend in early 2021 with 135,000+ quarterly searches on Amazon alone.
+627%
Plastic free hair care
+182%
Zero waste hair care
+71%
Refillable hair care
---
Take a deeper look into the global consumer health and wellness revolution
Understanding how consumers' altruistic health needs are being met is only part of the story. The opportunity for companies looking to meet and exceed the growing expectations of wellness-minded, conscious consumers is to figure out where your brand fits and sits along the entire hierarchy of health and wellness needs. Our Global Health and Wellness report takes a deep dive into how consumer needs have been reshaped around the world, what is trending, and what the budding opportunities are across the new, broadened spectrum of global well-being. 
Stay one step ahead by staying up to date.
Don't miss out on latest insights, offers and opportunities by NielsenIQ.