Q: What is sugar alcohol?
Sugar alcohols are a type of carbohydrate used to sweeten and reduce calories in food and beverage products. They occur naturally in a variety of fruits and vegetables and can be commercially produced from other carbohydrates like sucrose, glucose and starch. 1
According to the Label Insight database of over 455,000 food and beverage products, 4.3% of products contain a sugar alcohol ingredient.2 To put this into perspective, about 60% of food and beverage products in the Label Insight database are formulated with some type of sweetening agent.
---
Q. Why should CPG manufacturers and retailers consider sugar alcohols as a sugar alternative?
Over the last few years, there's been an increase in U.S. consumer demand for low-carb, keto, and diabetic-compliant products.
Sugar alcohols are not absorbed or digested fully by the body and have a few notable benefits over regular sugars for diabetic individuals or those adhering to a keto diet; they have fewer carbohydrates, they don't cause high blood sugar spikes like regular sugar, and they're less caloric.
On average, the caloric content of sugar alcohols ranges from 0.2-3 calories per gram, in comparison with other sugars that are 4 calories per gram. 1
While sugar alcohols currently represent a relatively small portion of sweetening agent sales, they also represent an opportunity to directly meet the needs of these growing consumer groups seeking alternatives to regular sugar.
---
Q: Are consumers looking for sugar alcohols?
Yes, according to online search panel data from NielsenIQ's trending product attribute platform and market measurement data from NielsenIQ Product Insight. Consumers are actively seeking out sugar alcohols in their online searches and purchases.
Our consumer search panel data from the past year, consumers are actively searching for erythritol and xylitol.3 Erythritol was searched 375,386 times, 9 times more than xylitol. The term "xylitol sweetener" had a 21.4% conversion rate, meaning every 1 out of 5 searches for "xylitol sweetener" ended in a purchase.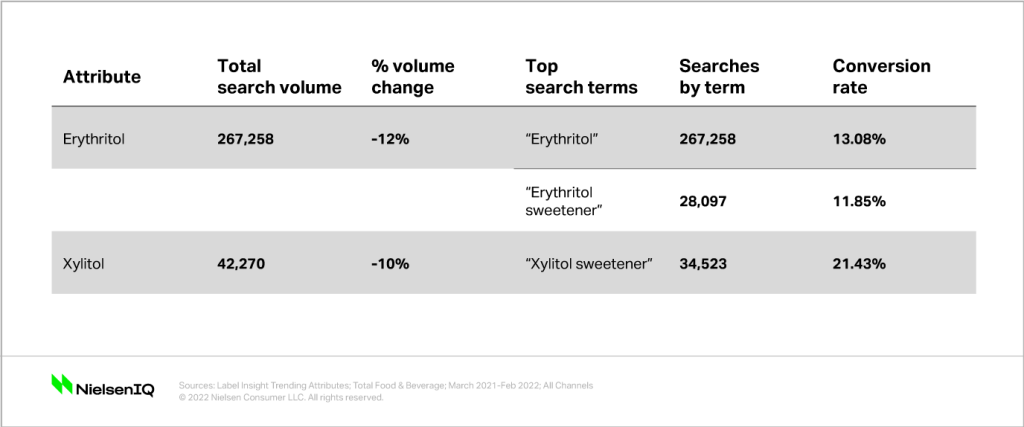 In terms of market share, sugar alcohols are a $17.2 billion dollar industry that is trending upwards at a rate of 12.8% compared to the previous year.4 Additionally, when looking at the products formulated with each individual sugar alcohol, each is trending upwards year over year.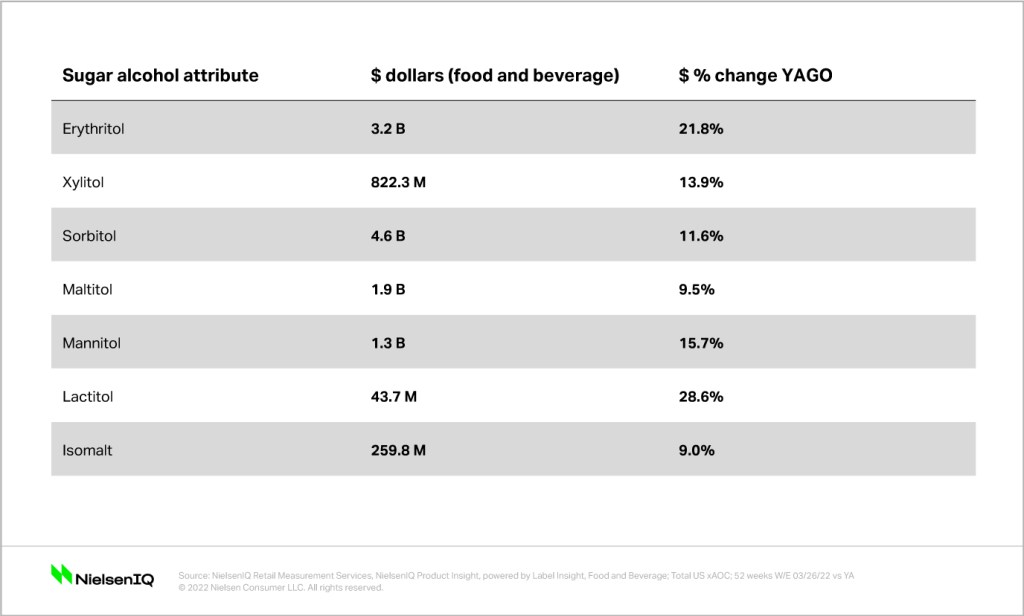 Sorbitol is the most frequently leveraged sugar alcohol within the Label Insight food and beverage database, with the highest dollar sales. Erythritol is a close second and growing rapidly, possibly due to its status as the lowest-calorie sugar alcohol commonly found in products positioned as ketogenic.3
---
Q. What products commonly use sugar alcohol as an ingredient?
At a category level, sugar alcohols are most frequently found in protein and recovery bars, candy, specifically gummies, other bars, and sugar free chewing gum.
Sorbitol is found in 1.3% of or 6,157 total food and beverage products in the Label Insight database, most often found in candy (specifically soft candy and gummies), sugar-free chewing gum, assorted chocolate, and some prepared sushi products.
Erythritol is the second most-used sugar alcohol ingredient, with 0.6%, or 2,610 total products containing Erythritol. This sugar alcohol is a strong candidate for consumers looking for a low-calorie sweetener alternative because it is the lowest in caloric content, with 0.2 calories per gram.5 According to the Label Insight database of food and beverage products, erythritol is most frequently found in protein and recovery bars, sugar substitutes, energy drinks, and chocolate bars and confection products including Quest, Enlightened, Halo Top, Orgain, Lily's and Garden of Life. Frequent claims associated with products formulated with erythritol include vegan, ketogenic, low sugar or sugar free, diabetes friendly, low glycemic, and plant based.
Following sorbitol and erythritol, the sugar alcohols are used most frequently in CPG food and beverage products are maltitol, xylitol, mannitol, isomalt, and lactitol.
Consumer demand for low-carb, keto, and diabetic-friendly products is on the rise. CPG manufacturers and retailers can actively connect with these shoppers through targeted product formulations, packaging claims and certifications, and item setup key search words and product descriptions.
NielsenIQ offers highly granular product attribution data as well as insights into ingredients, nutrition facts, label claims and certifications, search data, market measurement data, and more, to help CPGs stay ahead of evolving trends.
---
Sources
IFIC: Media drives change. Ingredients Network. (n.d.). Retrieved April 12, 2022, from https://www.ingredientsnetwork.com/ific-media-drives-change-news040636.html
Label Insight Explore Market Navigator: Total Food and Beverage; April 2022
Label Insight Trending Attributes; Total Food & Beverage; March 2021-Feb 2022; All Channels.
NielsenIQ Retail Measurement Services, NielsenIQ Product Insight, powered by Label Insight, Food and Beverage; Total US xAOC; 52 weeks W/E 03/26/22 vs YA
IBM and NRF Research Study, 2020.