Differentiate with innovation
As outlined in NielsenIQ's strategic playing field, strong brands are distinctive and communicate a specific point of view. Many small and medium brands are uniquely positioned to chart new paths to growth with unique styles and standpoints backing their products.
However, the reality among most smaller brands is that the pace of innovation has slowed dramatically. In fact, data from our BASES innovation measurement confirms that the number of smaller brand innovations has declined between 7–36% compared to 2019 measures in the U.S. and major European markets.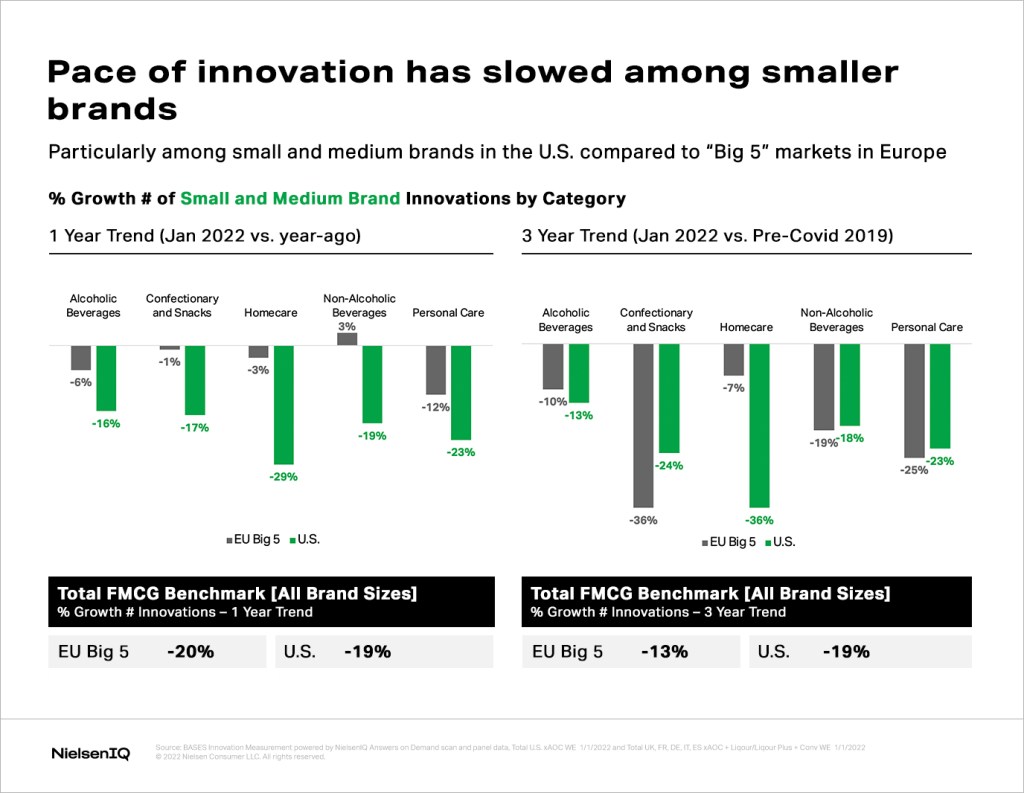 In this challenging economic climate, smaller brands have run from innovation at the exact moment that running toward it would benefit them most. Knowing that 94% of surveyed consumers across the globe say they are open to trying new things when shopping, the pace of innovation should be increasing, rather than decreasing.
---
Barometers of change
Innovative brands are best positioned to pivot around the shifting values of consumers. Smaller brands may be best equipped to leverage their nimble operations to adapt to new needs the quickest and be bold enough to position new products that change the norms of consumption. Small brands that succeed in differentiation of a key message, can serve as 'barometers of change' for other brands—signaling the potential demand shifts that have yet to pique mainstream consumer interest.
Below is a round-up of trends at the core of new differentiators for brands today. Within each example, we can see that many small brands are already acting on new opportunities.
Some successes have been built on conceptual differentiation where brands seek to shape the meaning or viewpoint consumers associate with product consumption. Other examples center around more tactile means for differentiation through new consumer behavior development.
---
Scaling meaningful growth with brand differentiation
Scroll through these hallmarks of how brands can stand out from the crowd
---
Success favors the bold
The three hallmarks of brand differentiation can be used in tandem with where we see demand shifts happening and which trends have the potential to scale. Jenna Movsowitz, editor at Startup CPG, echoed these sentiments.
"Small brands are starting to see the tides turn in their favor—not necessarily by reinventing the wheel, but by owning one facet of differentiation and owning it boldly. From single-ingredient innovation to compelling educational messaging or adoption of a new technology, simple but thoughtfully communicated differentiation sets winning brands apart from the rest."
The bottom line is that brands need to find a bold way to tap into the minds and hearts of consumers. Smaller brands have, in many cases, led the charge in meaningful differentiation—nimbly reacting in ways that have set themselves apart from the competition. Those that take these steps today will lead the way in setting the trends of tomorrow.
Stay one step ahead by staying up to date.
Don't miss out on latest insights, offers and opportunities by NielsenIQ.