What is Beauty Product Personalization?
Beauty product personalization refers to the customization of skincare, makeup, and other beauty products to meet the specific needs and preferences of individual consumers. This involves taking into account factors such as skin type, skin concerns, and personal preferences such as fragrance, texture, and color.
Personalized beauty products are typically created using data-driven algorithms that analyze a consumer's skin type and concerns to recommend the most appropriate products. Some companies also offer personalized consultations with skincare experts to create a bespoke skincare regimen.
Beauty product personalization can offer several benefits to consumers, including improved efficacy and a better overall experience. By using products that are tailored to their specific needs, consumers can see faster and more visible results, which can lead to increased satisfaction and loyalty.
Personalization can also help consumers avoid wasting money on products that are not suitable for their skin type or concerns. By using personalized recommendations, consumers can be confident that they are investing in products that will deliver the desired results.
Overall, beauty product personalization is a growing trend in the beauty industry as consumers increasingly seek products that are tailored to their individual needs and preferences including in the clean and sustainable space.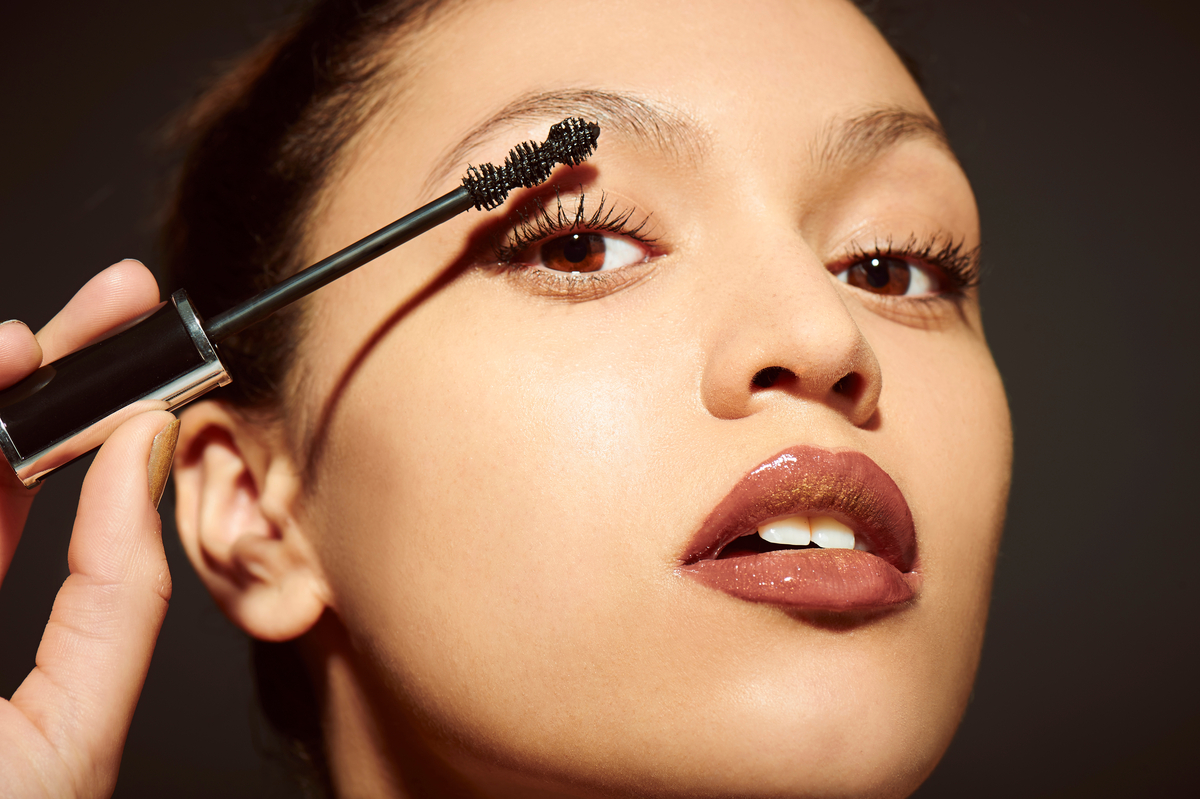 Uncover the Latest in Beauty and Health Innovation
In the report we highlight the top innovations in Beauty & Healthand explore the key themes driving innovation forward. This includes clean & sustainable, trusted representatives, personalization & inclusivity, and ingredient-focused.
---
The Beauty Personalization Trend
One thing is clear, customer personalization is changing the beauty industry. Consumers are increasingly looking for brands and products that feel like they were made just for them, and can solve their unique needs. This trend is increasingly manifesting in the exploration of 'taboo topics,' including products providing solutions for menopause, aging, men's cosmetics, acne acceptance, sexual health, mental health, and more. Personalization and inclusivity are targeting the user, not the mass market. The new products also provide openness and comfort on the products such as sexual health as personal health, hair loss, and mental health.
Here are a few of the areas where we've seen the most movement: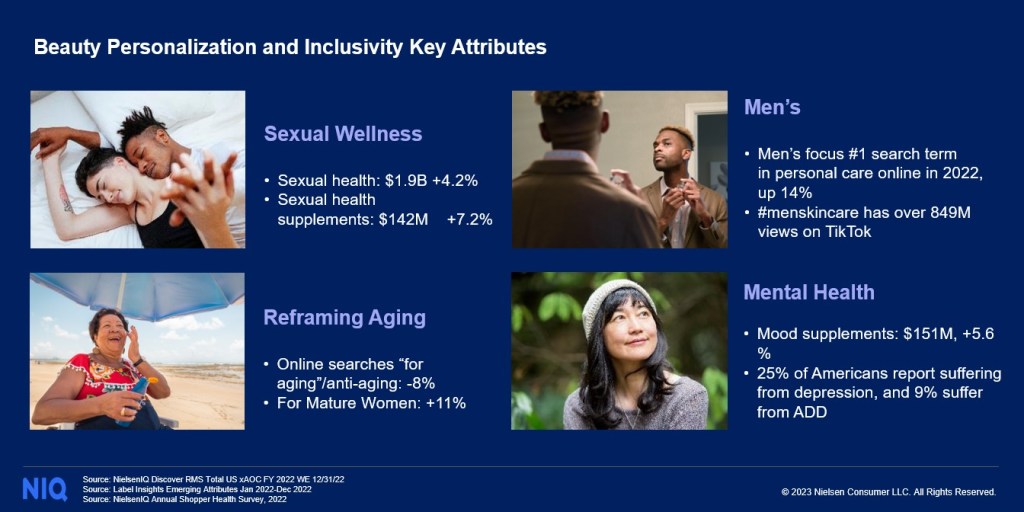 ---
How to Use Beauty Personalization
As seen above, it's clear that beauty personalization can drive strong growth. But, most brands don't really know where to start. To identify the right personalization opportunities in this highly competitive environment, brands need data. Not just surface-level performance data but rich and deep insights into consumer need states, granular attribute-based sales driver analytics, and comprehensive demographic and consumer behavior data that reveals emerging buying patterns and highlights growth opportunities.
Once you have reliable data on hand, you next need to pick the right target group and build your personalization efforts around that group.
With that in mind, here are a few ways to find success among your targeted group:
Satisfy unmet needs to bring in new customers (to the brand or banner)
Bring an advantage that expands usage/elevates buying velocity among target
Offer unique solutions that disrupt category buying
Carry a premium (justified by superior performance)
---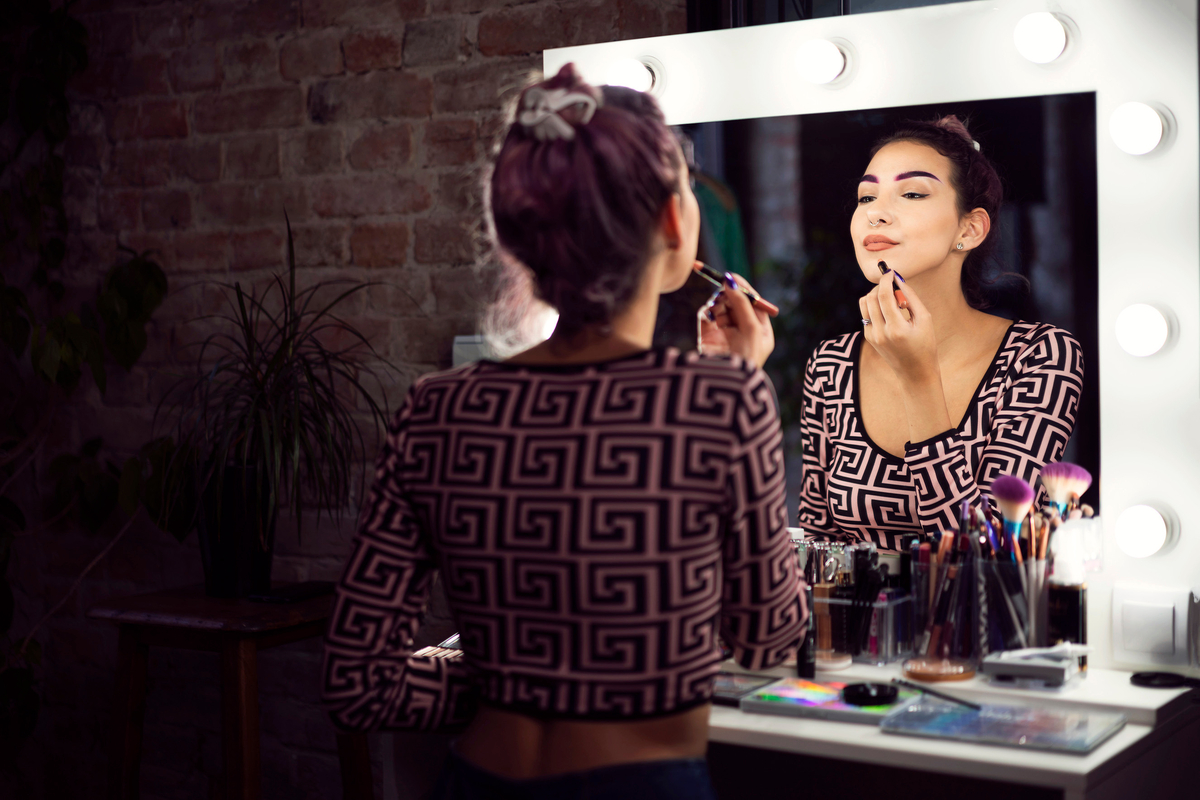 Get Personal Growth Insights with NIQ
Understanding how to use personalization to support your brand growth and align with consumer behaviors isn't easy. Investing in the best data and industry insights can make all the difference.

NIQ tracks 1,000+ attributes across total store and 250+ NIQ-only attributes. This means you can get granular with Product and Label Insights and act on them effectively with our expert insights and support.

For emerging beauty brands, our Byzzer platform can help by providing comprehensive reports and guidance. We'll help you understand shoppers' needs and behaviors better at a price fit for your budget. You can even start out with a free account to get a taste.
---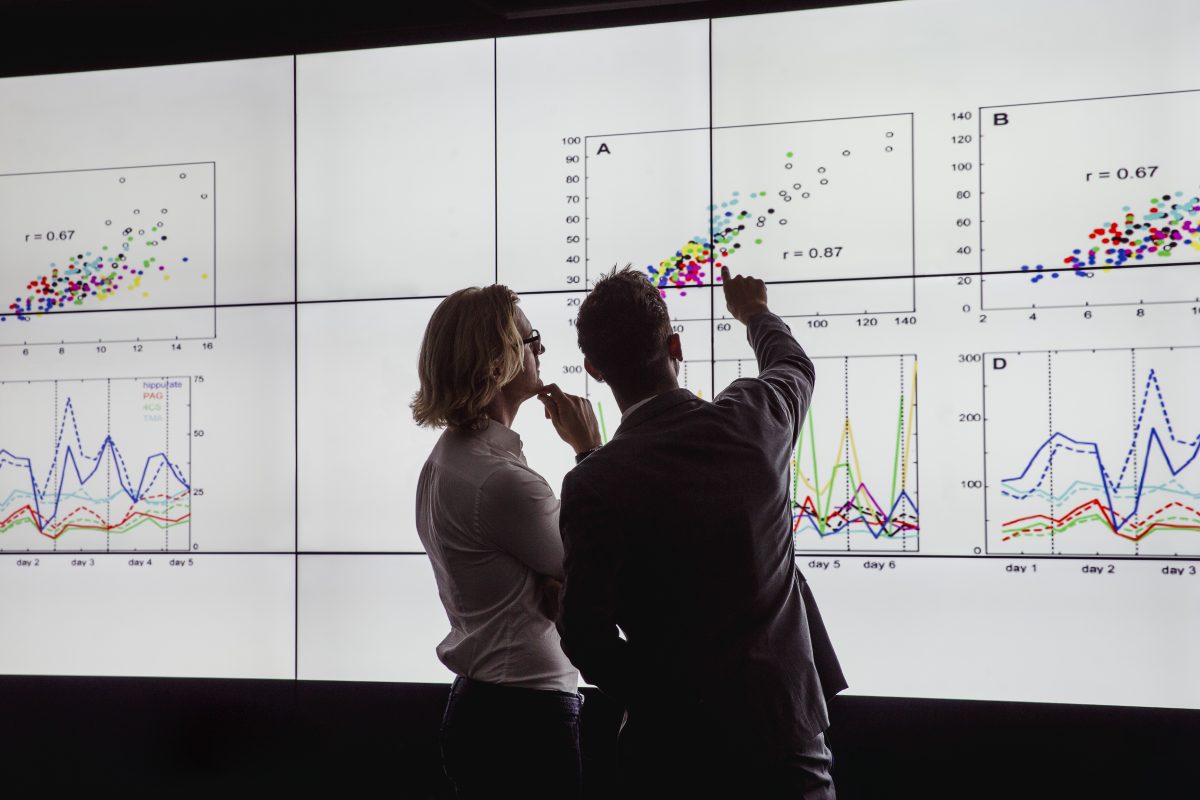 Methodology
NIQ's 2023 Health and Beauty Innovation Report, an annual compilation and celebration of innovation successes, recognizes brands that offer meaningful category innovation and are representative of key trends observed across health and beauty. Broadly, we considered new innovations that:
Are selling in-store, in our XAOC measured market​
Are part of the Health & Beauty department​
Represent a new 'brand low', 'brand high', SKU, or found success in a new channel​
Started selling in July 2021 or later (First month sales of $500,000 or greater)​
Had sales that reached over $3 mm in year 1*
For online launches, we considered brands that were new to selling online and experiencing rapid growth (the analysis looks at year-one sales and does not include any analysis of the long-term potential​).

*Year 1 sales will not include a full 12 months of data for products that launched after January 2022​