Growth in Asia Pacific
With 60% of the world's population residing in Asia Pacific, it is no surprise that the region will be key for the rebound of fast-moving consumer goods (FMCG). NielsenIQ recently conducted a survey with regional c-suite leaders and found that 69% of Asia Pacific FMCG CEOs are expecting their businesses to grow between 5-15% in 2022 and 44% believe that Asia Pacific will continue to be more important to their global businesses.
Rising costs of goods is the most anticipated impact expected by the Asia Pacific FMCG CEOs, with cost inflation and the challenge of consumers accepting higher prices cited as top concerns for 2022. From our survey, we also found that 63% of Asia Pacific CEOs stated that currently less than 5% of their business sales come from e-commerce, though 50% believe that it will be more than 10% by 2025.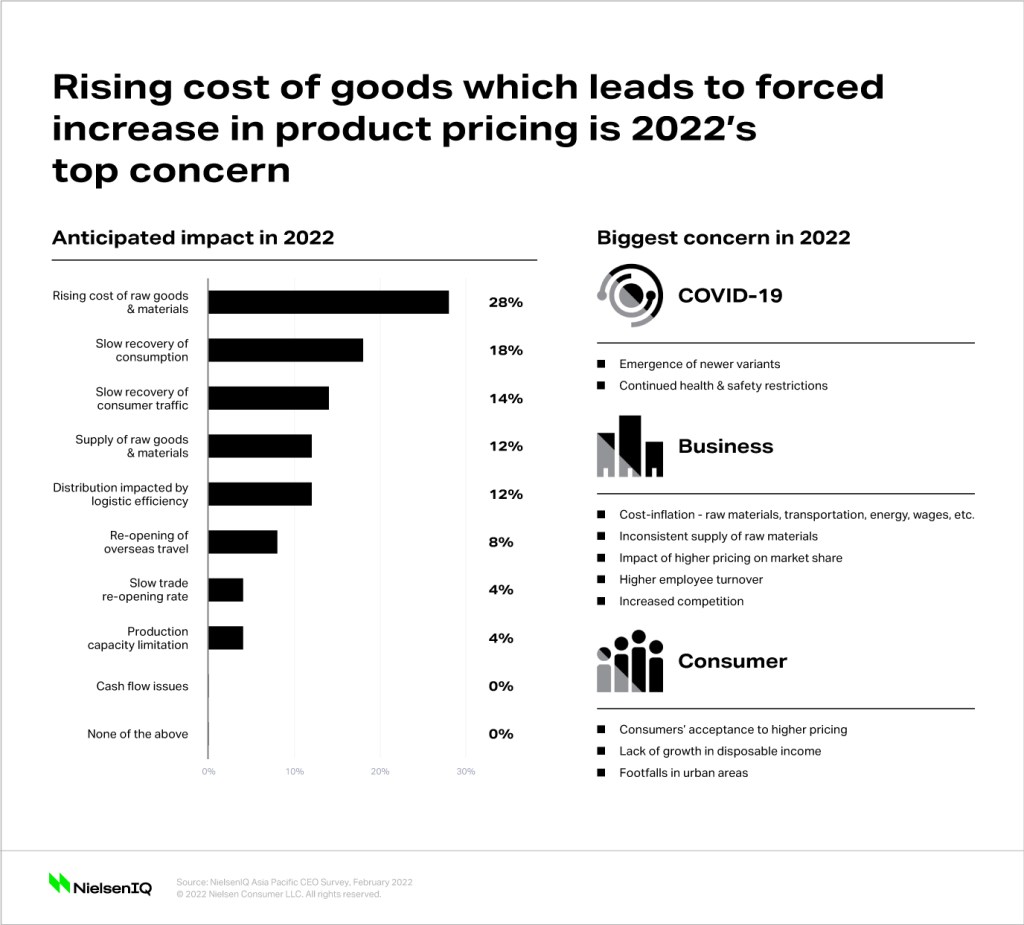 Recapping 2021 realities
After a challenging 2020, Asia Pacific FMCG bounced back with +4.3% growth vs a relatively flat 2020. Through our retail measurement tracking, we see that 9 out of 14 markets are showing growth compared to 2019 (pre-covid), including the Chinese mainland, India, Singapore, South Korea, Indonesia, Taiwan, Australia, and New Zealand. Markets such as Myanmar, Hong Kong, Thailand, and Vietnam are still declining due to varying internal and external factors though are showing signs of recovery in Q4 2021.
From a channel perspective, we can see that e-commerce now accounts for 19.5% of FMCG sales in Asia and is now the second biggest channel after Traditional Trade (45.5%). When choosing where to shop, Asians are stating that value for money, low prices, and wide product ranges are most important. These are all traits that e-commerce has strength in.
With respect to super-category performance, we can see that the growth is still coming from homebound super categories such as Packaged Food (+15% vs 2019), Frozen Foods (+26% vs 2019) and Pet Care (+27% vs 2019). Nonetheless, when looking at both long-term and short-term growth, we can see that Over the Counter (OTC) and health supplements are on a consistent rise (16% vs 2020 and 19% vs 2019).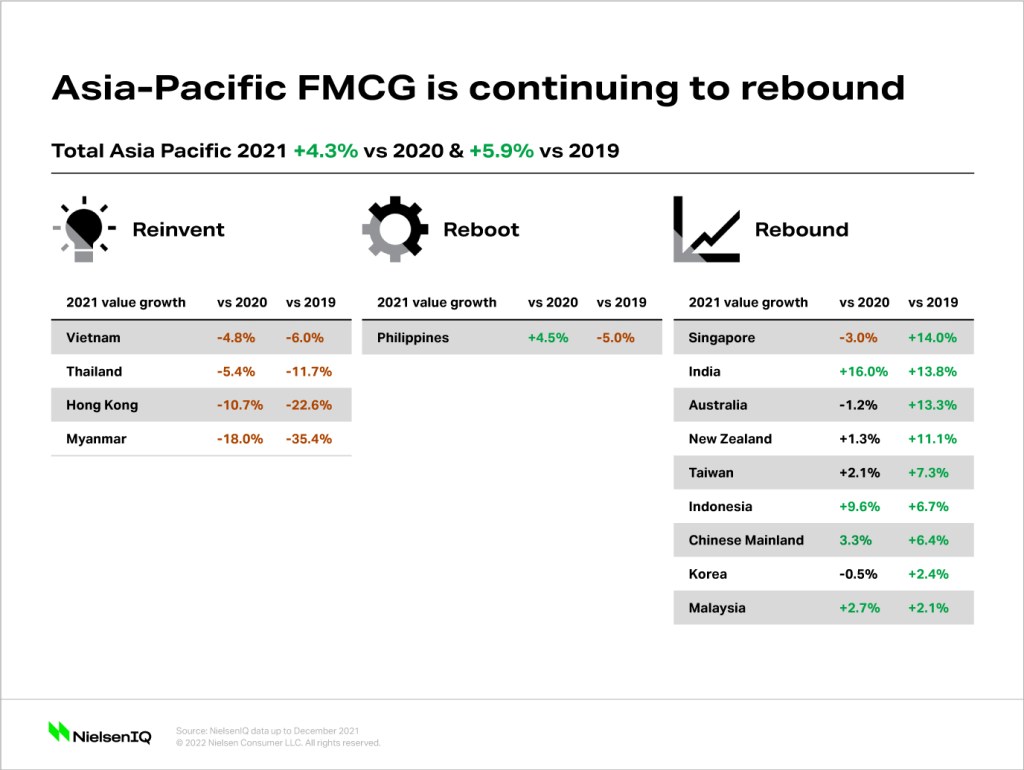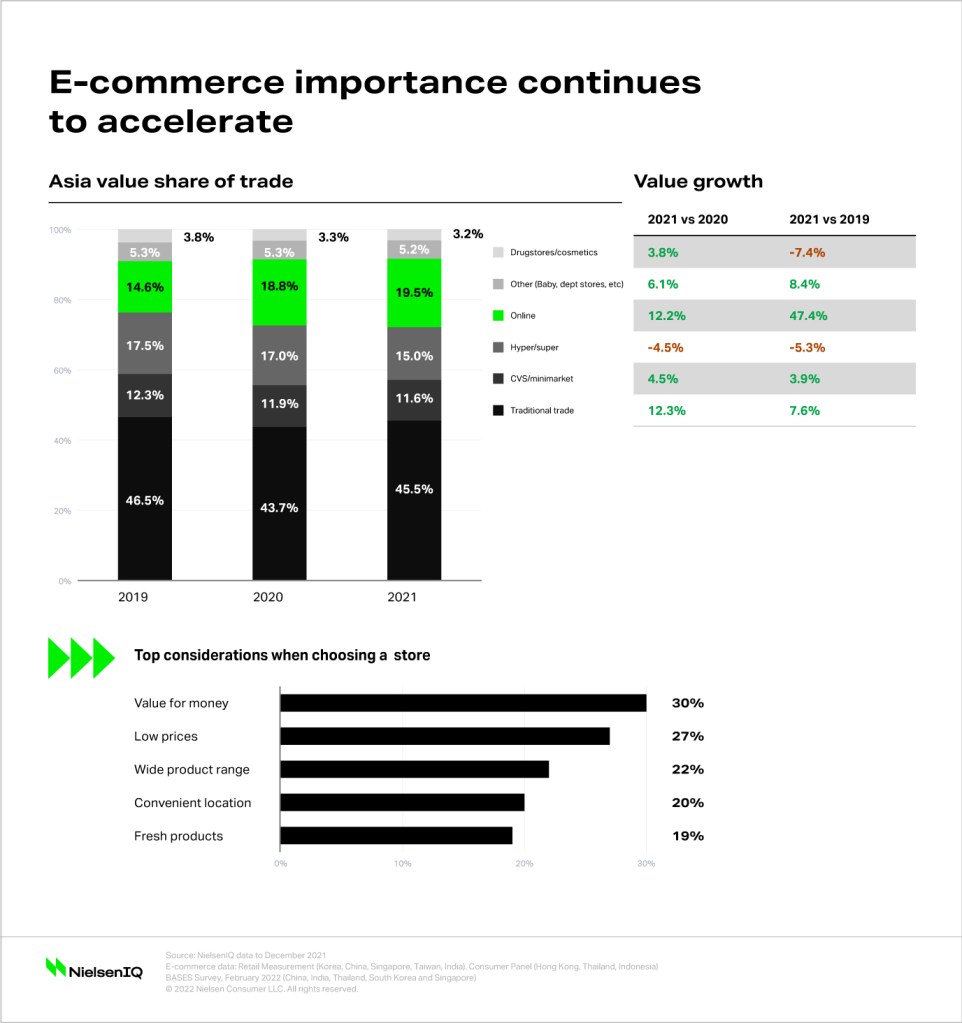 Health and wellness
Health and wellness products were a key trend in Asia Pacific even before the pandemic, though there is no doubt that covid has accelerated this shift. From our analysis, we can see that 54% of Asia Pacific consumers proactively search out Health and Wellness goods.
The top reasons why consumers feel that health has become more important are:
Wanting to protect myself from ailments and diseases (47%)
Wanting to live longer (46%)
Avoiding preventable diseases (45%)
Looking and feeling healthier (45%).
Nevertheless, there are variances across markets. In India and Indonesia, the number one reason consumers report is protecting themselves from ailments/diseases. In Australia and Thailand, consumers aim to live longer and have a healthier life in old age. In China and Singapore, they aim to look and feel healthier.
The growing middle class is a long-term trend in this region and Asians are willing to pay a premium for health and wellness. Most willing to pay extra for nutritional benefits, healthier options, products with strong hygiene/protection claims, and sustainable products.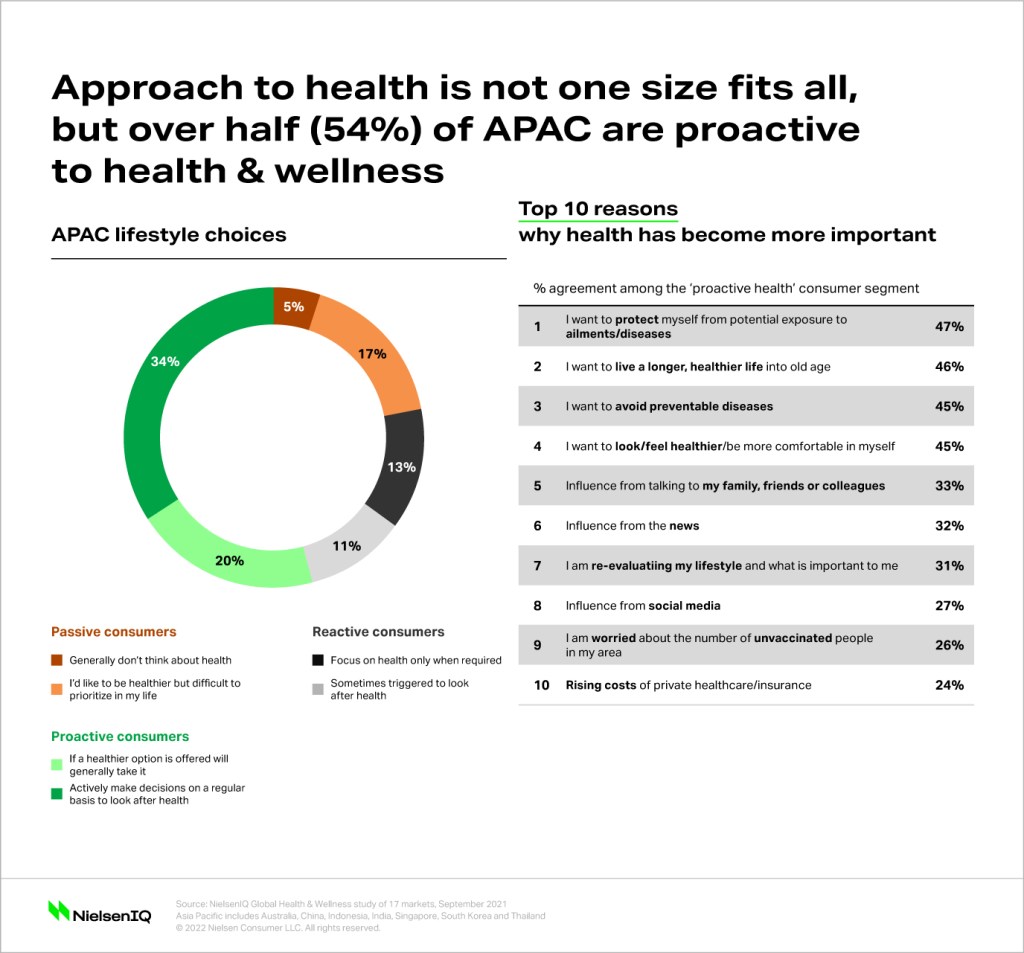 Inflationary pressures
Price is becoming a bigger factor in the value growth across Asia and has been increasing its contribution over the last three quarters. 83% of categories have seen a price increase vs 2019 and 25% have seen an increase of more than 10%. Edible Oil prices in India have increased 37% due to rising raw material costs and we are seeing categories such as chocolate and soaps being affected by the rising palm oil prices.
We expect pricing inflation to continue in Asia Pacific, especially given the political instability in Europe that is leading to a further increase in shipping costs due to vessel movements around the Black Sea. 48% of consumers in the region state that they believe their weekly shopping is more expensive than six months ago. Though it is worth noting that 37% of Asia Pacific sales are on promotion, 51.3% of them would have happened without any discount. Through NielsenIQ Everyday Analytics, leveraging the Revenue Management Optimization platform, we know that optimizing promotions could lead to an extra 3.3% value growth.
Premiumization is still a trend in Asia Pacific with the faster-growing markets such as Singapore, Australia, and Taiwan showing sturdy growth from premium price tiers. We are seeing Asia Pacific shoppers trade down on tobacco, but they are trade up on health and wellness as previously mentioned. They are also trading up when buying for loved ones, whether it be their pets or babies. Furthermore, they are trading up in homebody related super categories such as Frozen Foods and Household products.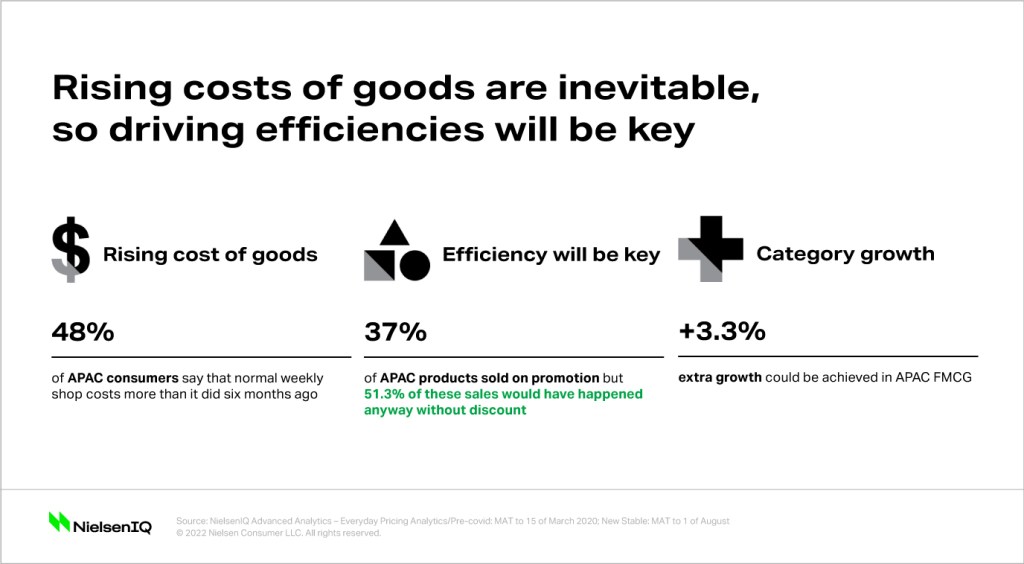 Acceleration of e-commerce
Asia is leading the way with e-commerce globally. E-commerce is the second biggest channel in Asia with 19.5% of FMCG sales coming through the channel. E-commerce is already >30% in South Korea (34.8) and Chinese mainland (31.6%). It accounts for 13.7% of sales in Singapore, 11.4% in Australia, and 9.8% in Taiwan. In these three markets, the growth is unrelenting, suggesting that they could reach 20% over the next few years.
But it's not just in the developed Asia Pacific countries where e-commerce is growing. In India, e-commerce already accounts for 2.9% of sales and shows great potential to expand like the rest of the region.
NielsenIQ's E-commerce Accelerator shows that Double Day festivals (9.9, 10.10, 11.11, and 12.12) are showing consistent and phenomenal growth. We are seeing that during these double day festivals some brands can see greater than +10,000% growth and can jump from #15 rank to #2, despite not even being sold offline in Modern and Traditional Trade stores.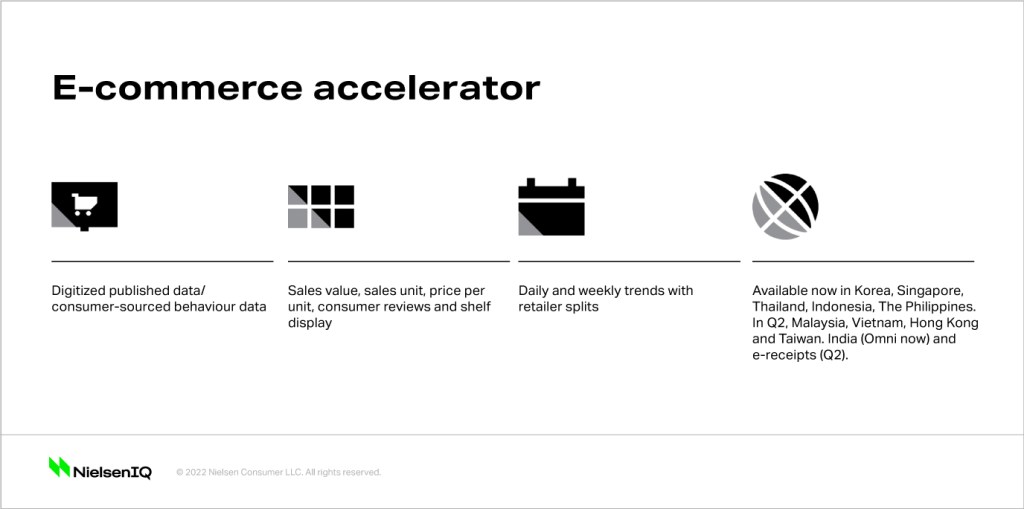 Consumer outlook
There is still uncertainty in the Asia Pacific region due to the rise of the Omicron variant. This is further compounded by the situation in Ukraine which will further exacerbate the inflationary pressures.
Within NielsenIQ, we believe that there will be three possible trajectories: Variant Lite, Variant Mid and Variant Max.
Variant Lite: Successful vaccine rollouts significantly reduce the impact of covid. Consumers will direct more of their spending back into things like travel, entertainment, sport, and the share of wallet. We expect e-commerce and omni shopping will remain strong but there will be an element of bounce back in bricks and mortar retailing.
Variant Mid: While there are signs that Omicron may be a variant with less severe health impacts, the sheer number of cases occurring across markets forces people to stay home with quarantine and isolation periods. This would lead to the continued growth of at-home lifestyles and increased at-home consumption FMCG, omnichannel, e-commerce, and many of the products that grew during restrictions as people re-direct their spending to at-home occasions and products.
Variant Max: Variants in the virus itself lead to higher spread of the disease due to international travel, leading to potentially more insular behavior by nations and polarized growth and decline. Travel would likely grind to a halt, and we would see a return to at-home consumption on a large scale. The consumer goods industry would benefit but would need to re-calibrate to serve very cautious consumers.
Omnichannel and e-commerce would flourish at an even greater rate than currently in the region.