A slight reversal
On September 13, the U.S. government released the consumer price index (CPI) report for August. The numbers showed a continued drop in gas prices—the fourth consecutive month of falling prices—but a slight uptick in inflation at 0.1%.
Despite the relief at the pumps, we are still seeing inflation sticking for other everyday essentials which will continue to pressure consumer spending, moving us ever closer to a consumer recession.
---
Inflation facts to know
Recent NielsenIQ data paints a picture of how inflation is impacting consumers behavior across the country:
CPG inflation hit an all-time high in August, with unit prices up +12% versus a year ago.
CPG sales growth is fueled by rising prices as consumption declines. Consumers may be spending more, but they are buying less.
How much more are consumers spending on CPG? In August alone, consumers had to spend $69 more per household due to rising prices.
Private label sales continue to thrive, increasing +13% in August from last year with a total share of 18.9%.
The top department growth for private label sales are Pet +17%, Dairy +17%, Bakery +14%, Dry Grocery +13%, and Frozen +11%.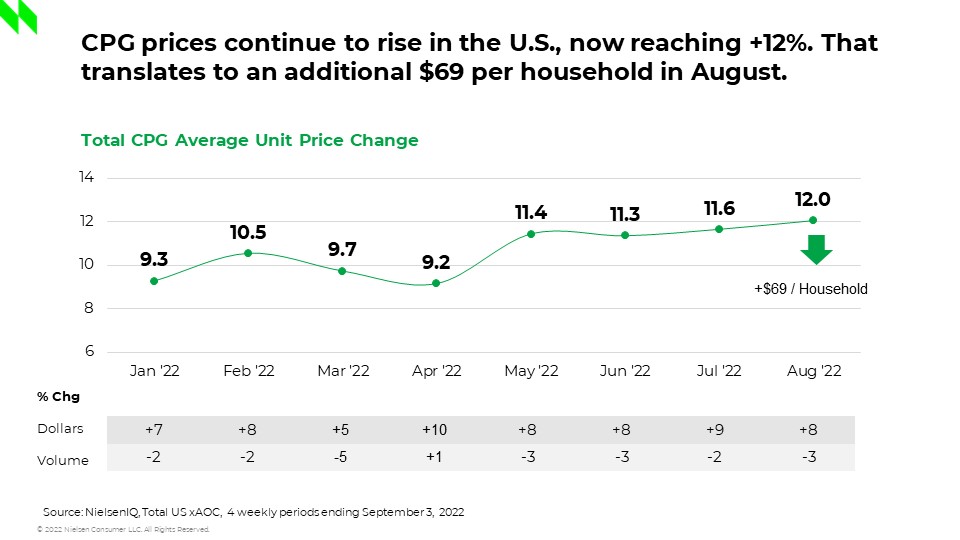 ---
Inflation in the grocery aisle
Inflation is impacting all areas of the store, primarily driven by food departments: Dairy +19%, Dry Grocery +16%, and Frozen +16% reported the largest increases for food. Per owners are also feeling the pain, with Pet Care prices up +24%, a record increase.
When we compare food versus non-food consumption, food, an obvious essential, reported only a -2% decline in unit sales, whereas non-food is down -6% as consumers prioritize their purchases. We can expect ongoing pressure on non-food sales as consumers cut back on discretionary spending.
---
Looking ahead to holiday shopping
Using July and August as a baseline, it's reasonable to expect that our consumer recession scorecard will continue to trend toward a full recession. As a result, we may see consumers shifting their spending back into the home to save money, cooking more at home, for example. Plus, with more consumers returning to the office and kids back in school, convenient and affordable meal solutions will be key motivators for shoppers at the grocery store.
These price increases will also impact the holiday meal occasion—consumers may be looking for less expensive alternatives or pantry loading in advance when they see a deal. With Thanksgiving fast approaching, we could see shoppers opt for less-expensive chicken, buying in advance, and buying smaller portions in the form of turkey breasts, for example.