---
Consumer shopping behavior changed drastically, at local and national levels
In cities across America, the face of grocery and household shopping has changed dramatically this year. Months of working from home, reduced levels of commuting, and high unemployment numbers are all adding up to a very different outlook for the consumer packaged goods (CPG) industry.
Many of the top-performing stores (or golden stores) across the nation have emerged in areas that haven't historically shared the spotlight of strategic focus for companies. With signs of growing staying power, these changes are redefining which store formats and locations matter most to U.S. brands and retailers.
At the national level, the novel coronavirus (COVID-19) has driven unprecedented demand for CPG in America as people spend more time at home. But behind the $85 billion, or 12% in year-to-date U.S. sales growth, is a story of local behavior shifts that has grown the pool of top stores that should be on the radars of retailers and manufacturers.
NielsenIQ data indicates that demand has grown among stores in lower-density locations, and that many shopping behaviors are now more concentrated within local grocery stores as the food channel continues to meet more everyday consumer needs.
In New York City, for example, pandemic-influenced consumption has altered the performance and relative importance of stores within downtown neighborhoods to the CPG industry. The average sales performance of stores across a sum of zip codes in the Manhattan area, shows that sales between March and August 2020, dropped over 37% from a year ago.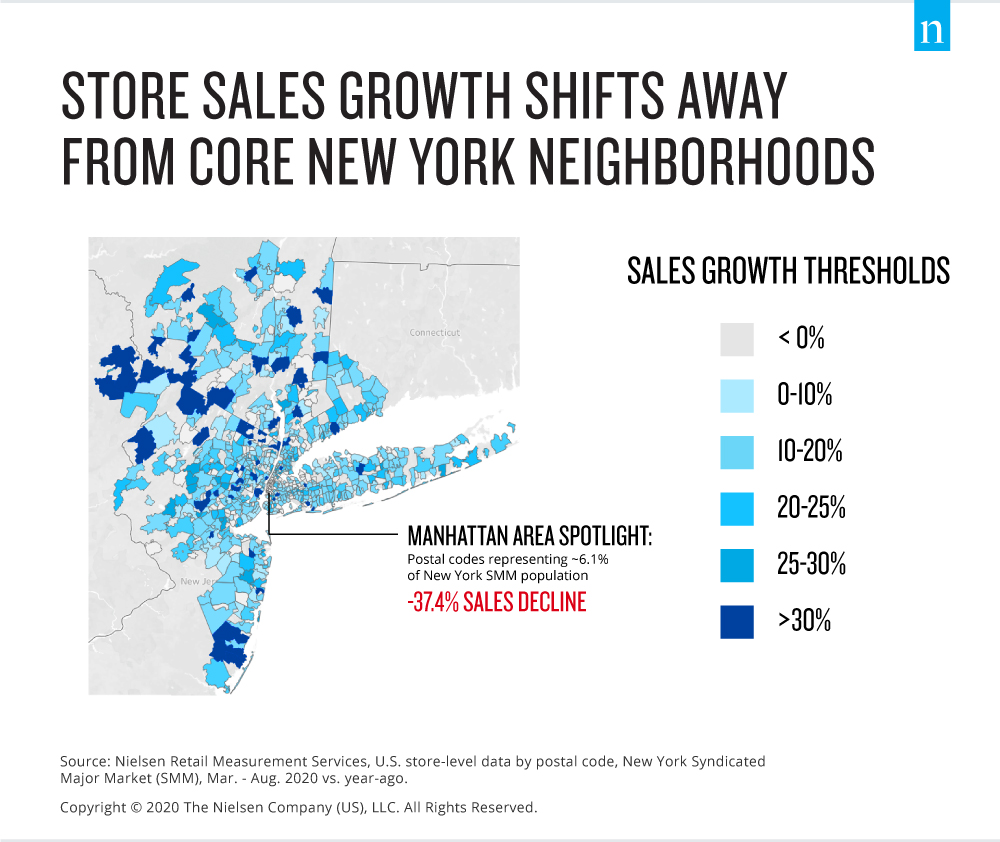 Remote work forces local stores to rebuild retail infrastructure
According to Brian Sinensky, Senior Data Scientist at NielsenIQ and a resident of New York, "The downtown Manhattan core has new meaning for city dwellers of New York. With the prevalence and persistence of remote working policies, there has been an inordinate amount of churn in local store performance, in a relatively short period of time."
Having delved first-hand into local store data explorations, Sinensky points out that for CPG companies, there are several advantages to getting ahead of this trend. "Now is the time to consider taking permanent action to prioritize or rebuild retail infrastructure in areas that will matter most to the remote-working consumer of tomorrow," he says. "Store-level analysis by category or retailer can provide granular recommendations that highlight which stores are situated away from new pockets of consumer demand."
COVID-19 has completely redefined the American concept of shopping at one's "usual store." With continued social distancing and remote ways of working, the pandemic has transformed consumers' shopping routines. Stores aligned to high-density workplaces are no longer within reach to many new remote workers. In fact, across five key U.S. cities, CPG dollar share has declined swiftly among stores located within the highest density postal codes, and risen among stores within the lowest density areas.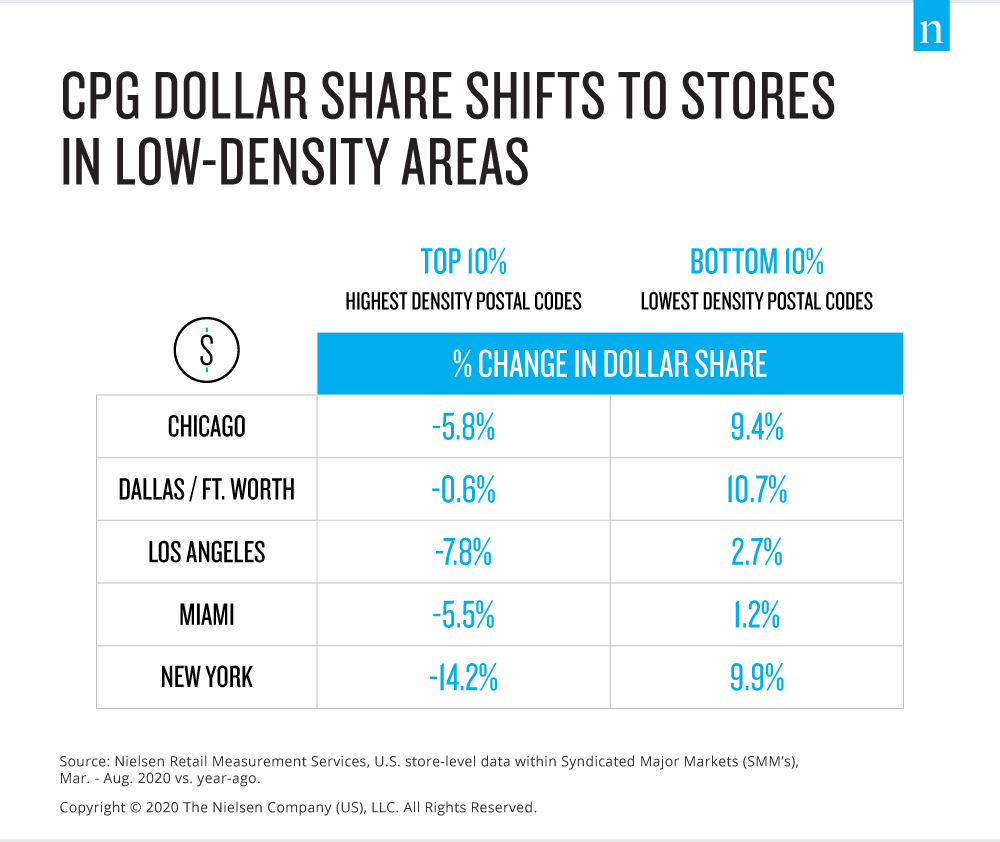 Store-level trends indicate changes in consumer spending

In Chicago, for example, stores within the bottom 10% of postal codes, ranked by population density, have gained over 9% in CPG dollar share this year. Conversely, the top 10% of high-density areas saw a contraction in share, representing 6% less of the city's overall CPG sales since the pandemic began.
For CPG companies, this highlights the opportunity to align and prioritize supply chains based on the current, shifted importance of each store in one's retail network.
American consumers aren't just prioritizing new neighborhoods when they shop: Store-level sales trends indicate that consumers may be prioritizing their local food stores to fulfill a wider assortment of needs. Across U.S. cities analyzed, food channel sales are driving growth in the postal code areas where local stores' sales have grown, accounting for the vast majority of consumer spending. Comparatively, consumers have relied less exclusively on grocery stores to meet their shopping needs in the postal neighborhoods that are experiencing overall sales declines.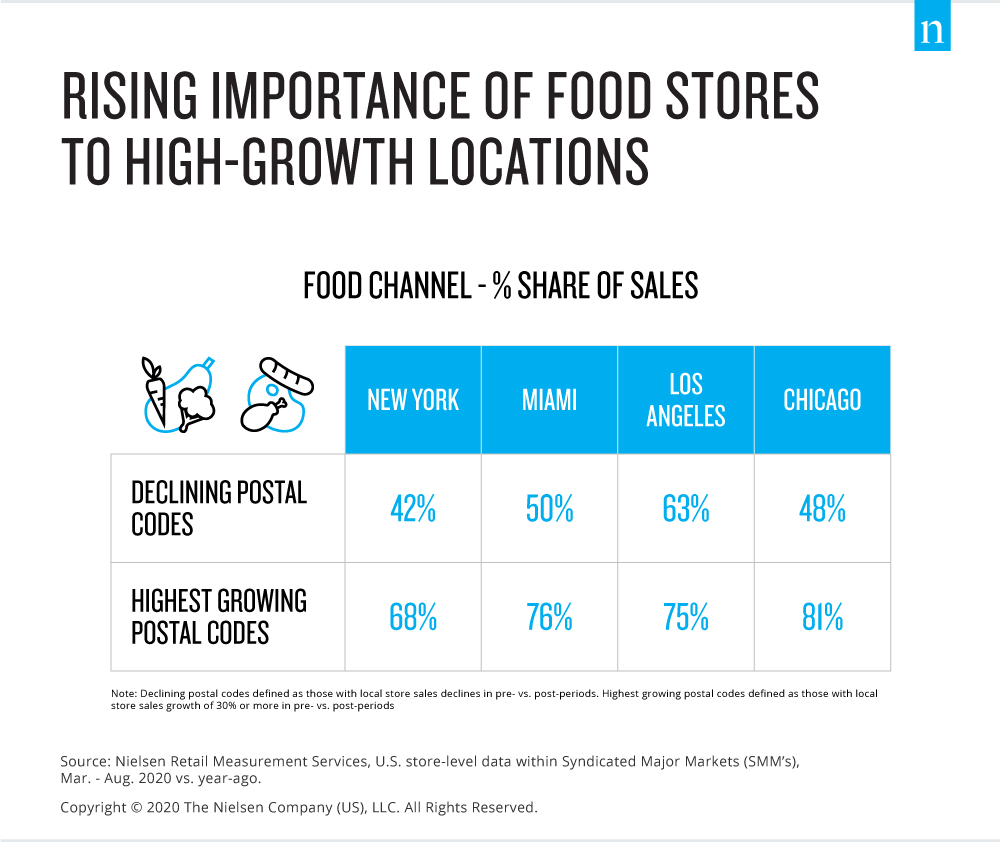 Companies have a chance to reposition their retail footprint
Ian Rhynard, Manager of Data Science at NielsenIQ, explains more about why this finding is so important. "Store-level data is what enables this evidence of the rise of the local grocery store to various U.S. neighborhoods. The significant dollar share of grocery stores in high-growth postal areas helps to quantify how consumers may be leveraging a single retail channel for an exponentially wider set of needs."
Miami grocery stores, for example, are meeting a majority of consumer needs within high-growth neighborhoods (76%, compared with just 50% among postal codes where local store sales have declined). As consumers continue to meet more everyday needs through their local grocery store outlets, it can help explain why some U.S. brands may be experiencing strong nationwide sales growth, despite struggling to maintain their sales share at specialty retailers or through other retail channels.
Rhynard concludes that "Extracting local store data across channels provides a clear understanding of an otherwise hidden trend. It also helps to guide decisions around national distribution strategy and assortment carried at key store locations."
This provides the early indicator that in high-growth American neighborhoods, the assortment of stores consumers are shopping has been notably simplified by COVID-19. For companies, this represents the chance to innovate and reposition the way their current retail footprint is being leveraged.
The conditions of the pandemic have forced many city dwellers to modify and, in many cases, simplify their path to purchasing consumer goods. Without offices to commute to, the journey to a physical store is likely much closer to home. For companies, this signals the time to re-evaluate retail strategy to ensure that physical outlets are prioritized relative to current demand and store importance, something recently shifted among Americans.