What is the state of snacking in the US?
US consumers are responding to ongoing cost-of-living pressures with more calculated, discerning, and deliberate spending, but snacking sales in the US remain relatively strong. This nation of snackers generates $135 billion in sales, annually.
NIQ's new Snackonomics report shows that Snack category dollar sales remain steady (+12.8%), driven by higher average retail prices.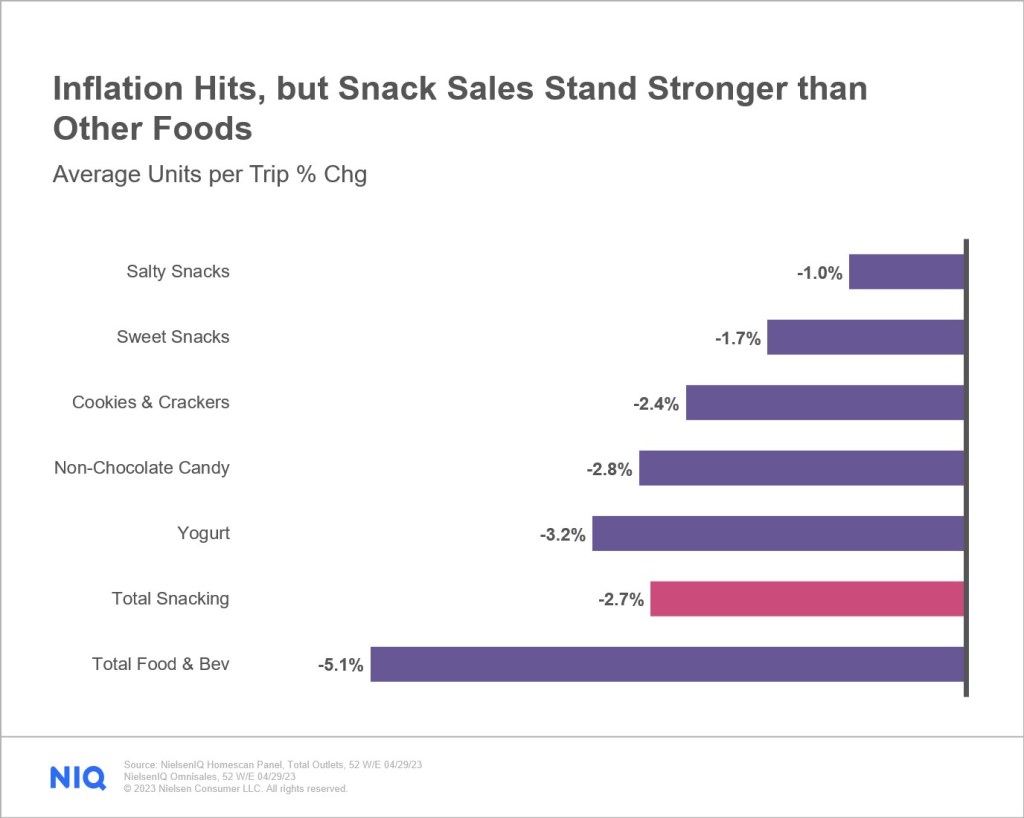 From a channel perspective, Snack sales online (where consumers can browse a wider assortment) had high growth over the past year (+14%), outpacing in-store sales (+10%) in almost every Snack sub-category.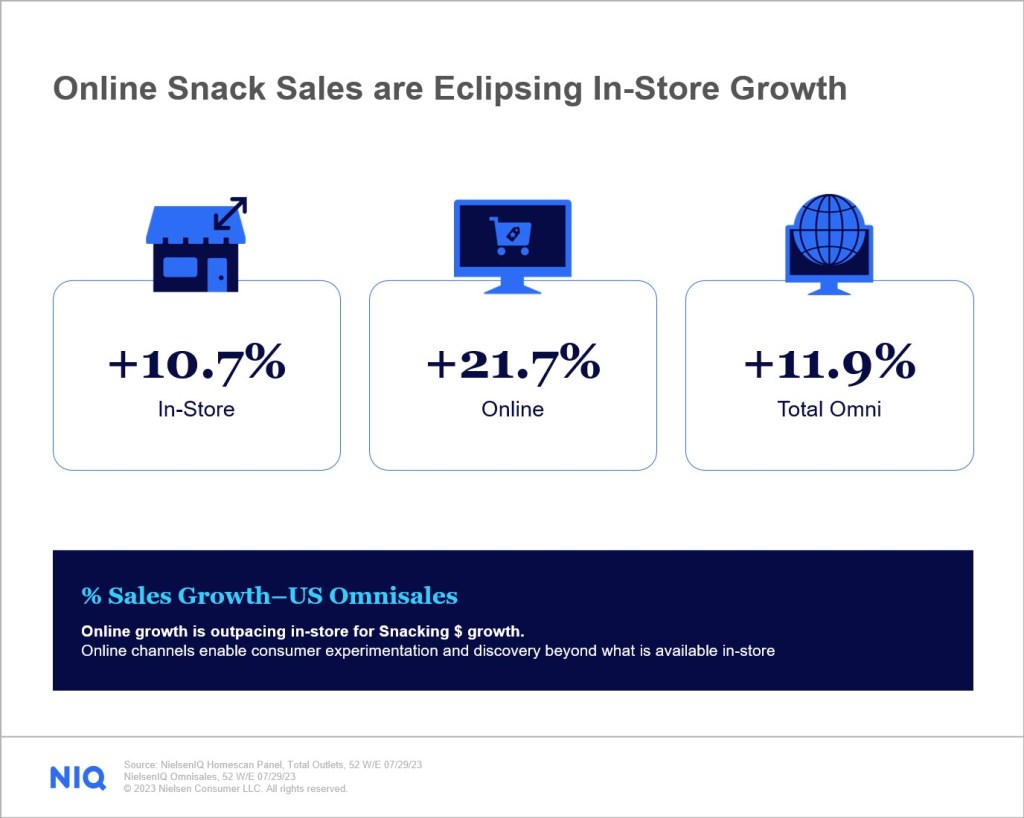 Meanwhile, in the physical retail channel, consumers are increasingly turning to value retailers for Snack purchases. US value retailers have increased Snack prices along with the rest of the market but still offer consumers lower than average price tags.
From a competitive standpoint, smaller brands are making waves. NIQ data indicates that brands valued under $500 million, including Private Labels, account for half of the Snack market's growth. Their smaller scale allows these brands to swiftly introduce unique innovations—something for larger players to monitor.
---
How is high inflation influencing consumers' decisions to buy snacks? 
While US consumers want different things from their snacks, many are shopping with value in mind. While Americans still consider taste and flavor when making Snack purchases, nearly 60% agree affordability is a crucial purchase factor. This is not surprising given that a significant portion of their total food budget, ranging from 5% to 20%, is allocated to snacking.
That said, America's passion for snacking faces challenges as consumers curb overall consumption to combat inflation and economic uncertainties.
NIQ data reveals that Snack inflation is approximately double that of total food, leading to a drop in Snack product volume. Prices surged up to +18% over the last year, resulting in a volume sales drop of -1.7%.
While this drop in consumption isn't exclusive to Snacks—as food inflation rates decelerate, overall consumption has decreased -3% in the US—consumers are cutting back on Snacks specifically by downgrading or simply purchasing less.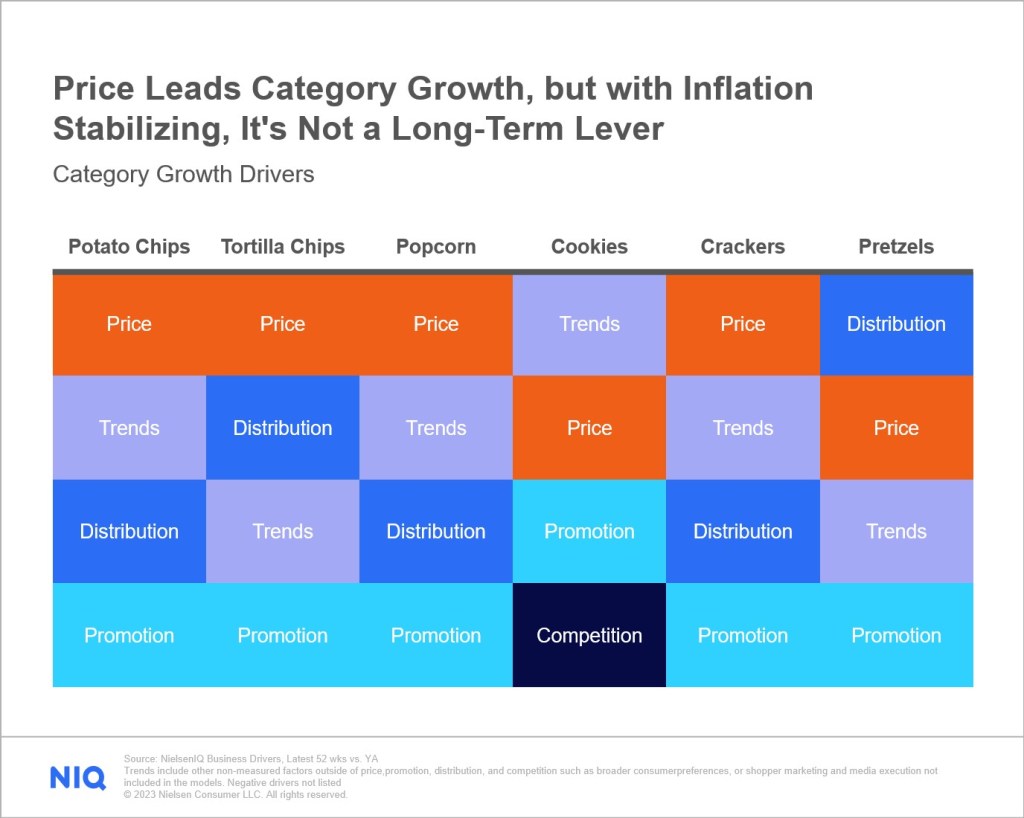 ---
Snack brand growth guidance:
5 levers to growth
While price is currently the #1 growth driver across many Snack categories, levers such as distribution, innovation, and promotion will be critically important to jumpstart volume growth.
Here are 5 ways Snack manufacturers can combat volume declines:  
Lever 1:
Revaluate brand and category elasticities and premium, mainstream, and value prices in the wake of inflation.
Reevaluating pricing strategies of the past, present, and future will be key to understanding your path forward. Many consumers have reached their limit on Snack prices. For Snacking players, it will be important to analyze your pricing data for critical price thresholds and identify if there are opportunities to expand through premiumization.
Lever 2:
Use promotional efficiency as a competitive advantage
The resurgence of promotional sales presents a key opportunity for Snack brands that grasp the new dynamics of today's promotion-driven marketplace.
Snack brands must recognize that traditional promotional tactics may not have the same impact on growth as they did in the past. Snack manufacturers: now is the time to optimize trade spend on deal-sensitive pack sizes and formats.


Growth Opportunity: Brands in the Healthy Snacks sub-category are running efficient promotions. Items like Yogurt, Fruit Cups, and Nuts and Seeds experienced promotional boosts, likely from consumers taking advantage of deals on their favorite healthy Snacks during this period of inflation. On the flip side, NIQ data shows that family/on-the-go options like Snack and Variety Packs saw increased volume sales but declined in promotional lifts, suggesting that there's room to refine promotional strategies within the Variety Snack Pack sub-category.

What to avoid: Some companies fall into the trap of excessive promotion, pursuing short-term volume growth at the cost of long-term profitability. Steer clear of heavy reliance on promotions to regain lost market share and adopt a long-term mindset; promote wisely, preserving the value that customers naturally associate with your brand.

The right data provider can help you effectively prioritize promotions that bring real value to individual items and boost overall sales.
What to add to your growth tool kit: NIQ Revenue Growth Management
Lever 3:
Evaluate product mix across the omni landscape
As consumers prioritize value, having a varied range of products is essential. By offering a diverse assortment across in-store and online channels, you enable constrained consumers to make informed purchase decisions and find products that fit their needs and budgets. Preserve brand loyalty with a product portfolio that caters to different affordability levels, so consumers don't have to seek value elsewhere.
Snack brands can also evaluate their approaches to price pack architecture to drive growth.
Growth opportunity: Brands can use packaging tactics that cater to cost-conscious consumers, including offering smaller and multi-pack formats that deliver affordability and convenience. According to NIQ data, multi-packs are popular with consumers for offering portion control, variety, and cost savings. As a result, dollar sales for multi-pack Snacks increase a remarkable +31.9% compared to two years ago, accompanied by a volume sales increase of +7.0% within the same timeframe.
Moreover, single-pack Snacks are also experiencing growth, with a +24.6% change in dollar sales and a +2.7% increase in volume sales compared to two years ago. These positive trends extend across multiple categories, including Chocolate Candy, Non-Chocolate Candy, and Cookies.
Actionable data helps Snack brands understand consumer preferences, optimize pricing strategies, and introduce or validate price pack options to drive growth in the market. Snack brands should focus on the right brand in the right pack at the right price.
Lever 4:
Ensure your brand is available where consumers expect to find it—and where your competitors are already playing
A focused channel strategy is crucial for Snack brands to achieve meaningful volume growth. Aligning distribution and sales efforts with channels that have high potential for reaching their target audience, can maximize a brand's reach and exposure to the right consumers.

A focused channel strategy also enables brands to tailor marketing and promotional activities to match the characteristics and preferences of the chosen channel. Effective communication of your value proposition will drive higher consumer engagement and ultimately drive volume growth.

Growth Opportunity: NIQ data shows that online and mass/value channels offer prime opportunities for Snack growth. Thanks to the convenience and wide array of choices, online channels have surpassed in-store sales growth across various Snack categories.

Simultaneously, value retailers have gained popularity, offering lower average prices that attract cost-conscious consumers. Candy, Salty Snacks, and Sweet Snacks all have a significant opportunity to grow with the right channel strategy in value retail.

What to avoid: When pursuing growth through focused channel strategies, Snack brand manufacturers need a cross-channel view of sales to monitor online competition, avoid pricing and profitability pitfalls in value retail, prevent lack of product differentiation, offer assortments that match consumer preferences in each channel, and ensure consistent branding across touch points.

What to add to your growth tool kit: NIQ OmniSales and NIQ OmniShopper
Lever 5:
Improve success rate of new launches by grounding innovation in proven consumer trends, not fads
Successful innovation strategies are informed by a full view of consumer and retailer needs, from concept testing to activation. But many brands still have a limited view of the full innovation landscape. A complete perspective of consumer needs and competitive innovations in your category includes competitive private label offerings, emerging brands, and their presence across various retail channels, including online platforms like Amazon's 3P marketplace.

What to add to your growth tool kit: NIQ Bases
While Snack brands face challenges in the current landscape, they can still grow by harnessing the power of data.

A full view of the Snack landscape and actionable analysis of their growth levers can help brands confidently navigate changing market dynamics and illuminate a path to success.