Analysis
US travel industry: Cruise industry recovery continues to strengthen on all fronts as lodging and airlines appear to level off in demand as pricing remains elevated.
Highlights:
US Consumers have been booking and boarding cruises in 2023 at levels well above 2019 as pent up cruise demand is coming back very quickly
Lodging and airlines leisure travel activity has leveled off in 2023 as pricing remains at very high levels and has impacted unit demand
This article offers insight into travel trends and metrics from our US E-receipt panel across the lodging, airline and cruise industries
Travel Activities Shift to Cruises
Consumers continue to spend money on travel activities but have shifted a larger percentage of those dollars to cruises as the cruise industry has really accelerated in 2023. Lodging was the first industry to recover post-Covid as consumers elected to initially use their travel dollars to go to destinations within driving distance of their homes. Airlines recovered secondarily as consumers once again started taking domestic flights and avoided international flights. The cruise industry was the last to recover but has really accelerated in 2023 as consumers took advantage of cheaper relative prices per night for cruises and pent-up demand had people boarding cruises at significantly higher levels than 2019 throughout 2023. Lodging and airline revenues remain higher than 2019 levels due primarily to higher unit prices (price per night and price per mile flown) as unit demand has cooled off.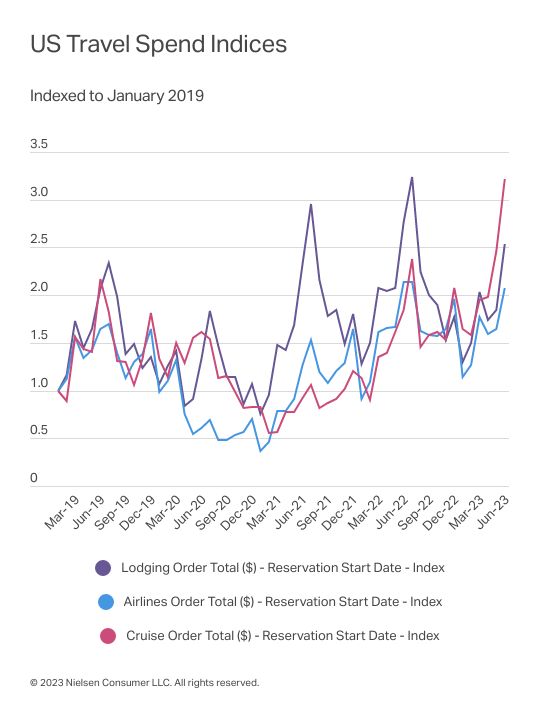 ---
Higher unit pricing is driving lodging and airline results as cruise pricing plays catch up
Lodging and airlines industry unit pricing has remained elevated for the last 12 months as pricing has hovered at approximately 120% of 2019 levels. Airlines pricing has eclipsed lodging unit pricing (relative to 2019) throughout the second quarter as US consumers have shifted a larger percentage of their airline dollars to international flights. This has benefited the international airlines (American Airlines, United Airlines, Delta Airlines) as the domestic focused airlines (Southwest Airlines, JetBlue Airways, etc.) have been hurt by this trend. Cruise pricing per night has begun a comeback as demand has returned but still lags both lodging and airlines pricing by a notable margin relative to 2019.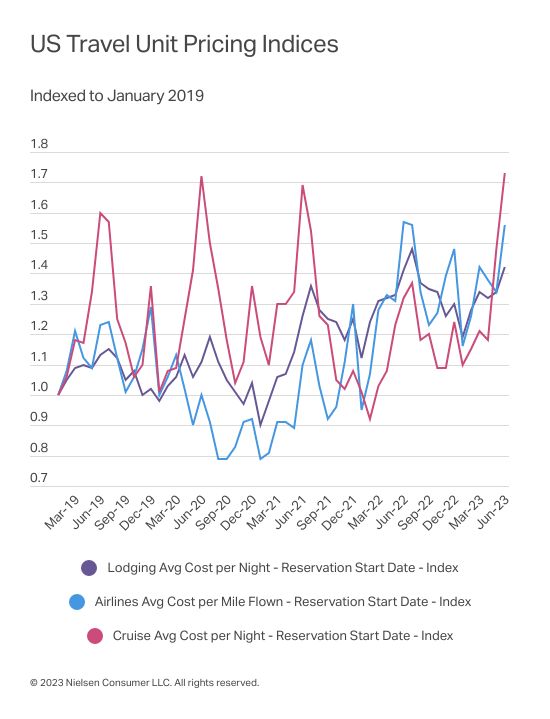 ---
Subscribe for more Insights from NIQ Analysts
---
Relative pricing activity presents upside to cruise pricing moving forward
When looking at relative pricing to see how pricing differences affect consumer decisions between their travel options, it appears the upside for future cruise pricing activity remains relatively high even as it has recovered. The top chart below shows that in 2019, consumers would typically spend $0.80-$1.00 (depending on seasonality) on paying for a flight relative to a night on a cruise. When given the option of choosing between a night on a cruise ship versus a night in a hotel or home rental, people would pay approximately $1.00-$1.20 for a night on a cruise ship relative to a night in a hotel or home rental. This relationship inverted as the cruise industry recovery lagged lodging and airlines. The bottom chart that looks at relative pricing relative to 2019 shows that cruise pricing is still relatively cheap versus lodging and airlines. In the second quarter of 2023, cruise pricing on a relative basis to the relationship that existed in 2019 shows that cruise pricing is still ~10-20% cheaper than both the other travel/vacation options.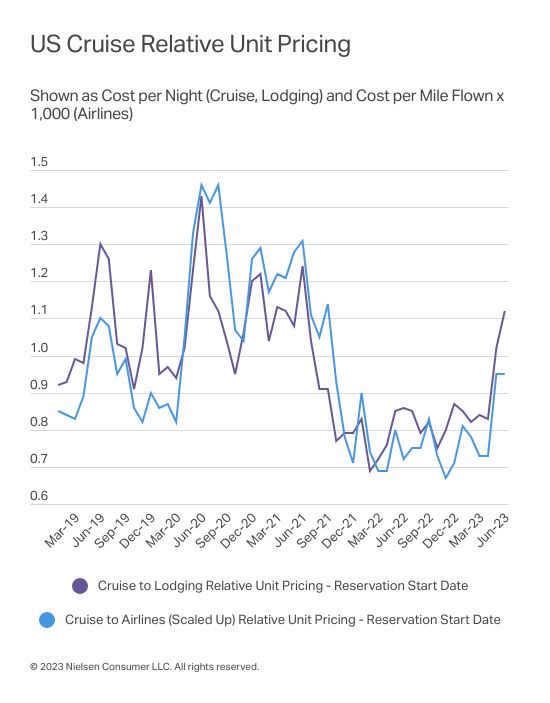 ---
Booking window and pricing activity indicators appear positive across all industries
The relationship between booking window (the number of days a reservation is made before a trip is taken) and pricing has always been interconnected. A hotel, cruise ship or airplane will maintain more pricing power as the travel date arrives the earlier it fills up its available capacity. The recent uptick in booking window in 2023 for all three industries on a YoY basis is a positive indicator for pricing moving forward across all three industries and indicates that pricing should remain strong or possibly improve in the back half of 2023.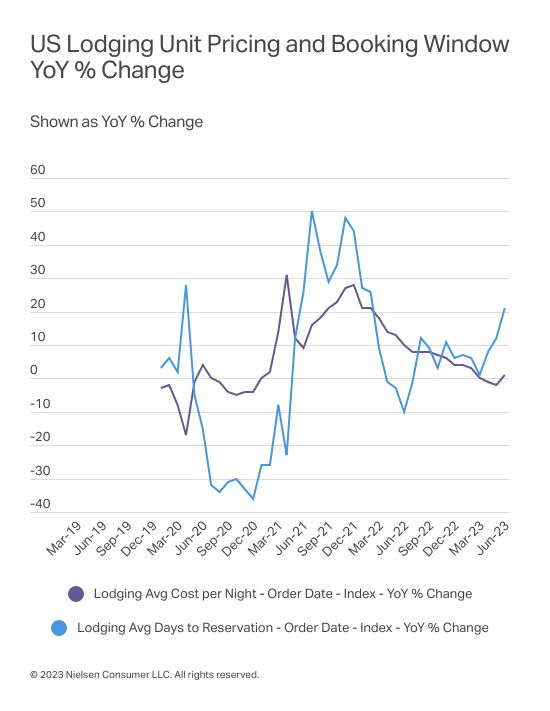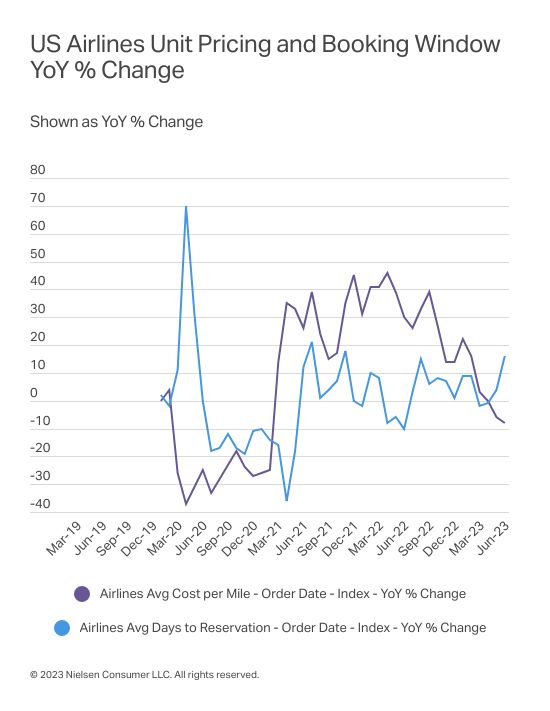 ---
Cancellation activity has normalized across lodging and cruise industries
Cancellation activity has normalized and are at levels they were at in 2019 with the average lodging cancellation rate of ~20% and cruise cancellation rate of ~15%.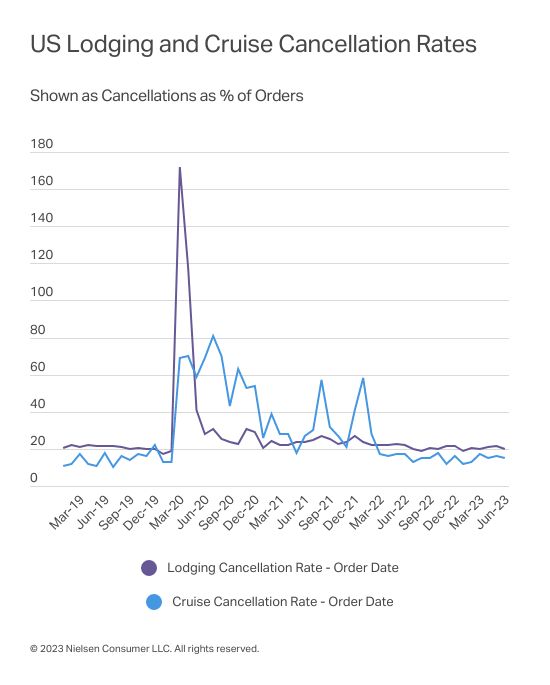 ---
From macro to micro, broad to narrow, we've got you covered with comprehensive and flexible data intelligence to fuel your next move.
NIQ and GfK together offer the Full View™, the world's most complete and clear view of consumer buying behavior combined with unparalleled omnichannel coverage, data platforms, and predictive analytics.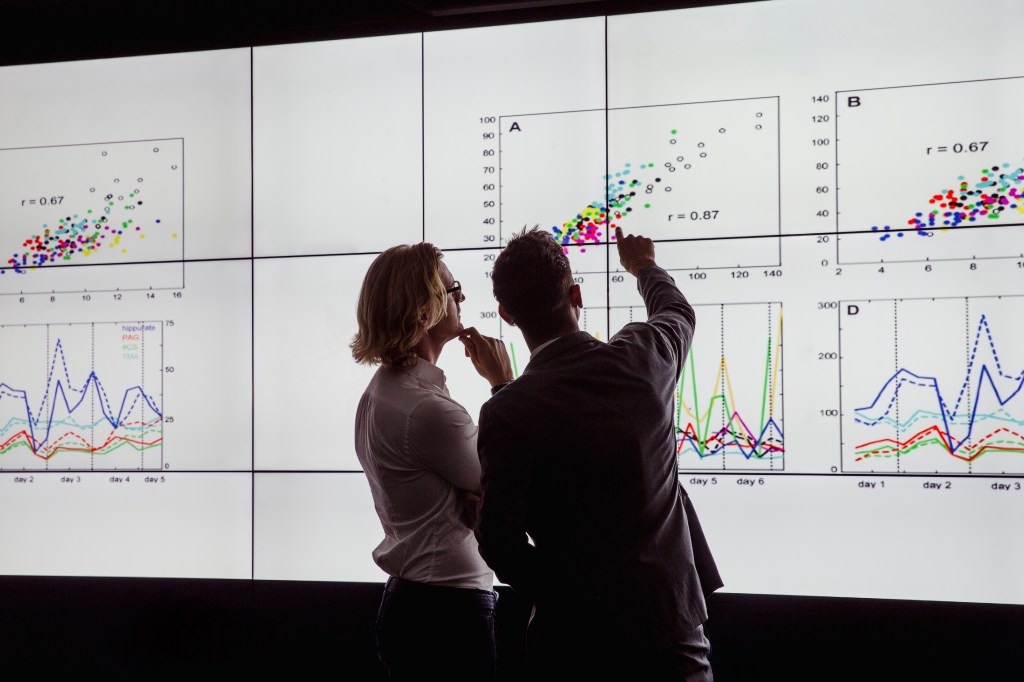 Complete the form below to connect with our data experts that are here to answers your questions and match you with the right data solution.
More about Alternative Data from NielsenIQ
As the leading provider of global retail measurement data, NIQ produces a full view of consumer behavior, with operations in 90+ markets, covering more than 90% of the world's population, making NIQ the largest global source for alternative data.
© 2023 Nielsen Consumer LLC. All rights reserved.