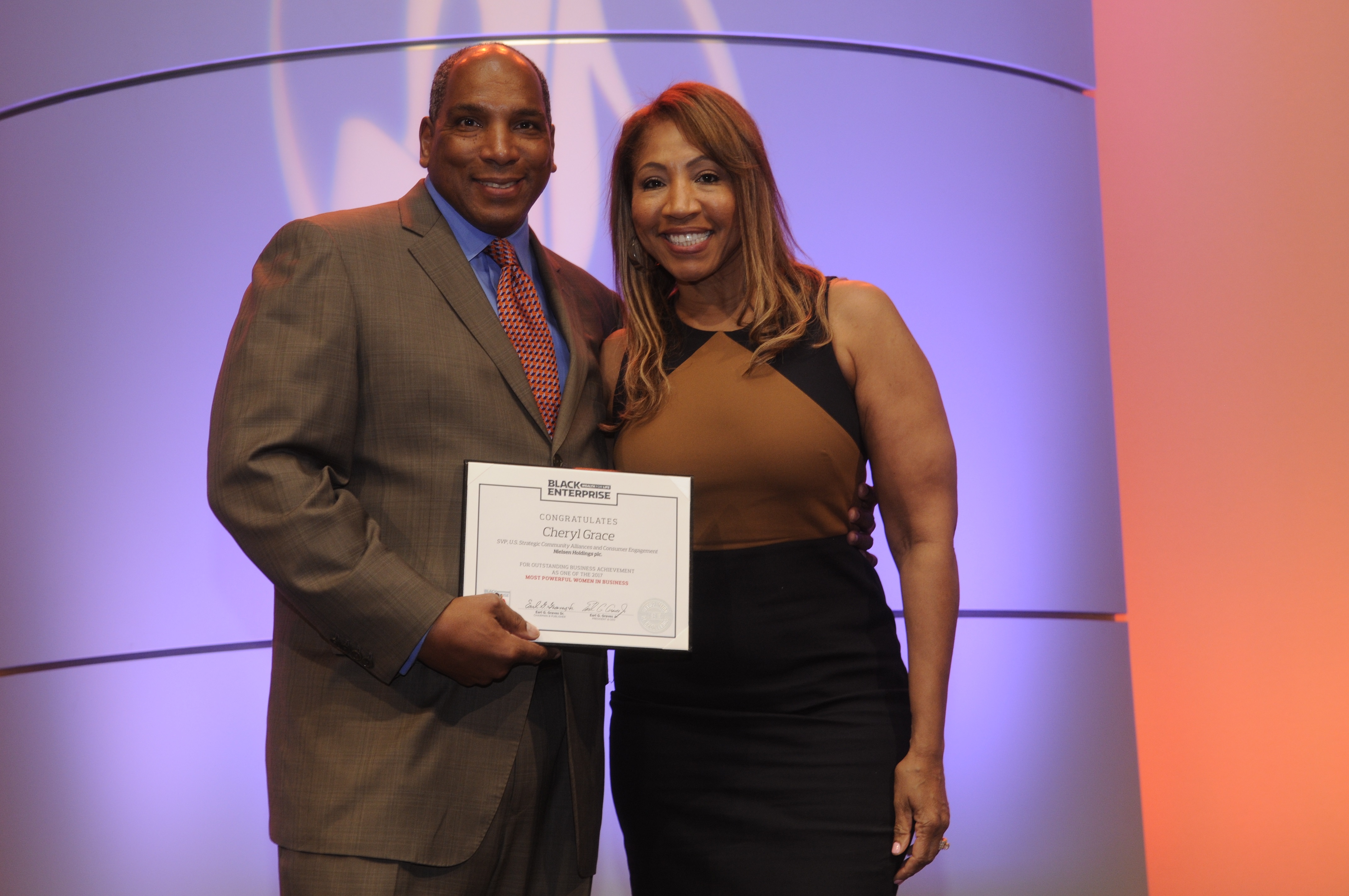 We're pleased to announce that Black Enterprise Magazine has selected Cheryl Grace, NielsenIQ's Senior Vice President of Strategic Community Alliances and Consumer Engagement, as one of the 50 Most Powerful Women in Business for 2017. The recognition celebrates women in business across functional areas and industries. The honorees, who are are among the most recognized and influential executives and entrepreneurs in business, were selected by Black Enterprise's editorial and research teams based on rigorous criteria.
At NielsenIQ, Grace has been responsible for the company's philanthropic relationships and sponsorships with multicultural organizations across the U.S., thereby strengthening our relationships with diverse communities. Angela Talton, Chief Diversity Officer, NielsenIQ, describes Grace as "committed to doing what's right for NielsenIQ, for consumers, and for the communities we serve."
Grace is also responsible for pioneering NielsenIQ's award-winning African-American Consumer Report, which led to the company's historic creation of NielsenIQ's Diverse Intelligence Series. Each report, released annually, focuses on the rapidly growing Hispanic, African-American or Asian-American consumer base and is a tool used by some of the largest businesses and brands across industries to aid in their understanding of the consumption behaviors of multicultural populations in an increasingly diverse consumer landscape. The advent and expansion of the Diverse Intelligence Series continues to solidify NielsenIQ's position as the definitive source of information on U.S. consumers of color.
As one of Black Enterprise's Most Powerful Women in Business for 2017, Grace is joined by the senior-most executives across the media industry, including Cathy Hughes, Debra Lee, and Shonda Rhimes.
Earlier this month, to commemorate the release of the 2017 list, and to honor the women chosen for it, Black Enterprise invited hundreds of executives, policy-makers, and cultural influencers to its annual "Women In Power" Summit in Phoenix, Arizona. Honorees were recognized for their commitment to impact change, drive revenue, and shape future business leaders despite obstacles and headwinds. During the conference, Grace participated on a career development panel titled "No Guts No Glory: Managing Career Transitions and #Winning Big."
Learn more about the event and award.