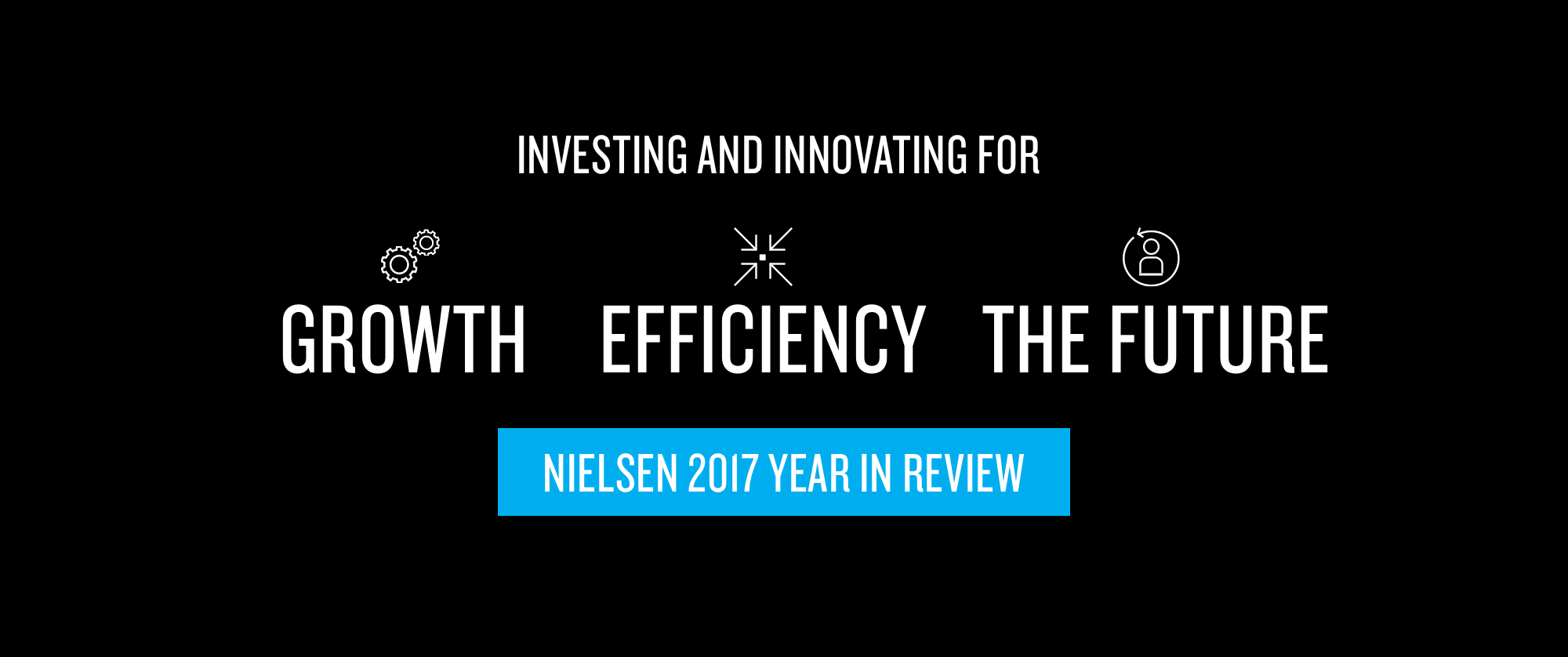 At Nielsen, an innovative spirit drives us forward. For 95 years, we've continually invested in innovations that have helped us provide better products for our clients, as well as drive growth and efficiency for the markets where we operate. And 2017 was no exception. In fact, Forbes Magazine recognized Nielsen at No. 30 on its 2017 list of the "World's Most Innovative Companies."
Today, we released our 2017 Year in Review, an interactive, online version of our 2017 Annual Report. This site provides a dynamic and comprehensive look into our most recent innovations and accomplishments from 2017. It covers financial highlights and key product advancements, as well as our Global Responsibility & Sustainability and Diversity & Inclusion efforts.
Some highlights from our 2017 initiatives and our path to future growth include:
Growth: With the Connected System and Total Audience, we're investing in uniquely better products and solutions that are driving continued growth within the Buy and Watch sides of our business, respectively.
Efficiency:

Automation initiatives, consolidation of our operations, and platform convergence, supported by a growing use of machine learning, will enable more scalable growth and transform our business.

The Future:

Collaborative models across Watch and Buy will play a growing role in our future. Additionally, in Marketing Effectiveness, we are drawing on the strengths of Watch and Buy, as well as third-party data sets, to add to our leadership position in outcome-based metrics.
One important component of the report is CEO Mitch Barns' "Letter to Shareholders." In this letter, Mitch provides a review of our 2017 performance, key initiatives and shares his views on the future of Nielsen: "all told, when we look out to 2020 and beyond, we see a gold mine of opportunity….we are committed to delivering on our goals and I have confidence that we will. And in doing so, we'll drive sustainable, long-term, incremental value for our clients and for our shareholders."
Find Mitch's full letter, along with our 2017 financial highlights, key product innovations and more, in our 2017 Year in Review.