What sustainability means to Beauty consumers
Consumers embrace sustainability in a variety of ways. Some may choose to use reusable bags at the grocery store or limit their water consumption while others support fair trade brands. Most associate sustainability more with environmental impact than social causes. According to an NIQ survey, 61% of consumers associate sustainability with benefiting the planet, 57% with preserving natural resources, and 54% with reducing pollution. Only 33% associate it with better conditions for workers and 26% with societal contributions.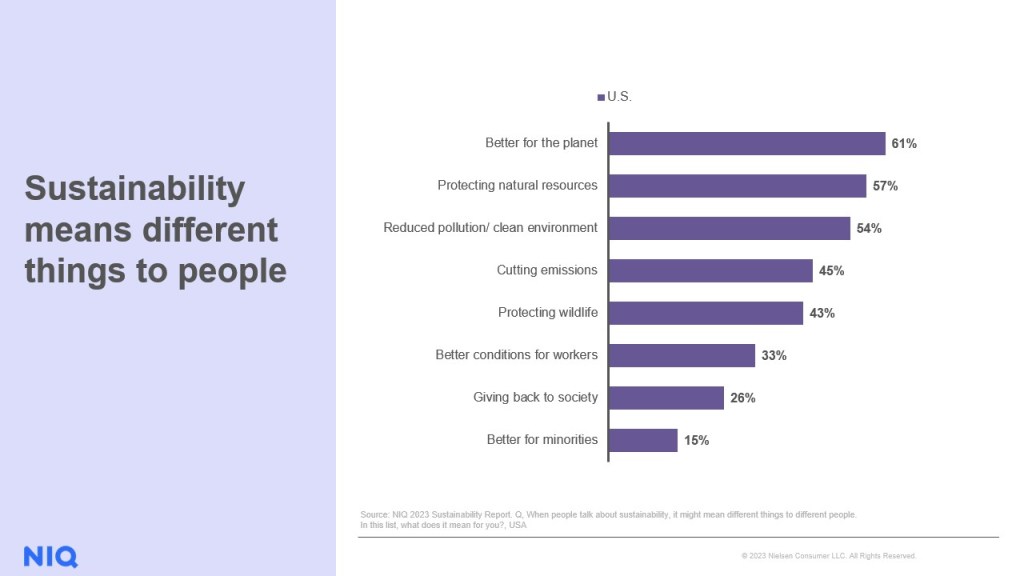 While definitions of sustainability may vary, it is becoming more important to consumers. 62% stated that sustainability is more important to them than it was two years ago. It's prevalence in the news and visible real-world effects are propelling this awareness into action.
We're seeing this shift towards sustainability in the Beauty and Personal Care category. Initially focused on eliminating perceived "harmful" ingredients, consumers now seek products that not only meet clean Beauty standards but also minimize environmental impact. Sustainable segments across Beauty, such as cruelty free, up (+18.1%), compostable, up (+30.9%), and plastic free, up (+12.2%) are experiencing substantial dollar growth.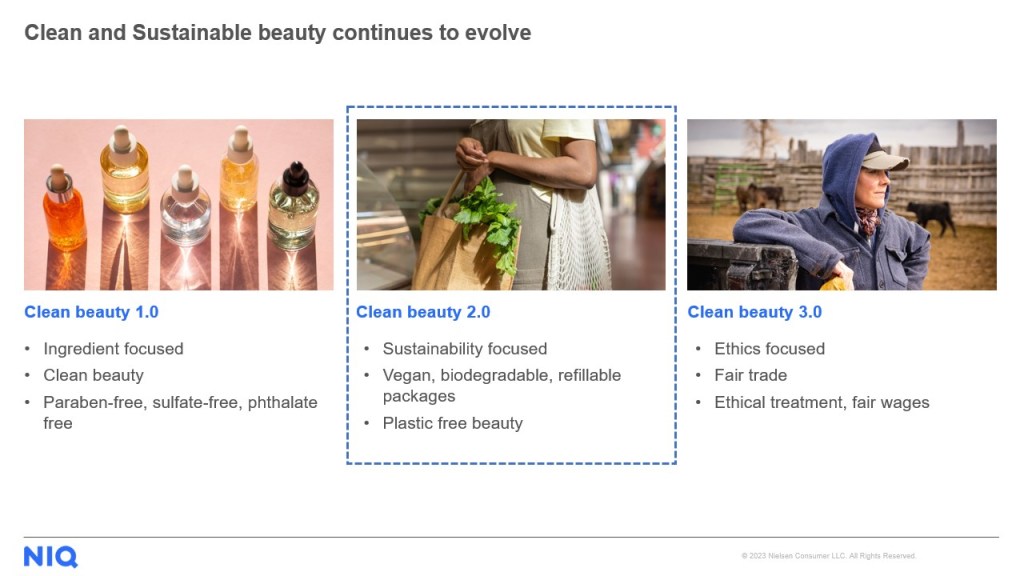 In addition to ingredients, we're seeing an increase in sustainable packaging efforts, with a significant +64% increase in searches for refillable options. This trend is popping up across categories in Beauty and Personal Care from Deodorant to Cosmetics to Skin Care. With the beauty industry's contribution to plastic packaging waste, about 120 billion units of plastic annually according to the Zero Waste Week, the continued innovation in refillables is necessary.
---
The impact of clean Beauty
While "clean" and "sustainable" Beauty trends often overlap or go hand in hand, the clean Beauty movement has considerable environmental impact. Many consumers favor natural alternatives to synthetic ingredients, but harvesting natural ingredients at scale could have a negative impact on the environment. As consumers prioritize sustainability, transparent ingredient sourcing and environmental impact assessments will be critical.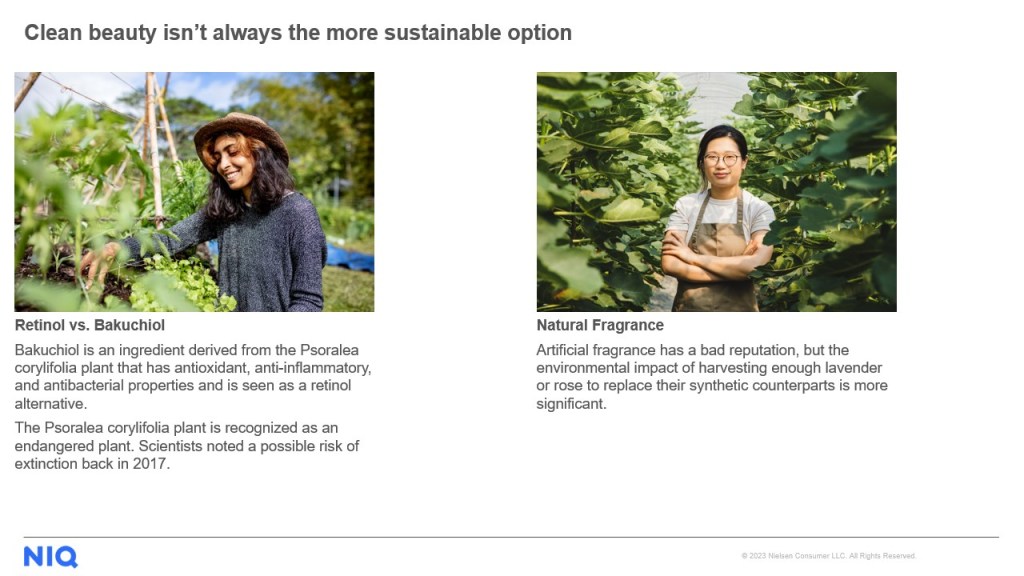 Consumers are letting us know that sustainability is important to them, and it is a trend we can expect to continue to see in the beauty category. Brands must communicate clear messages about their sustainability efforts to cater to consumers seeking products that align with their sustainability goals.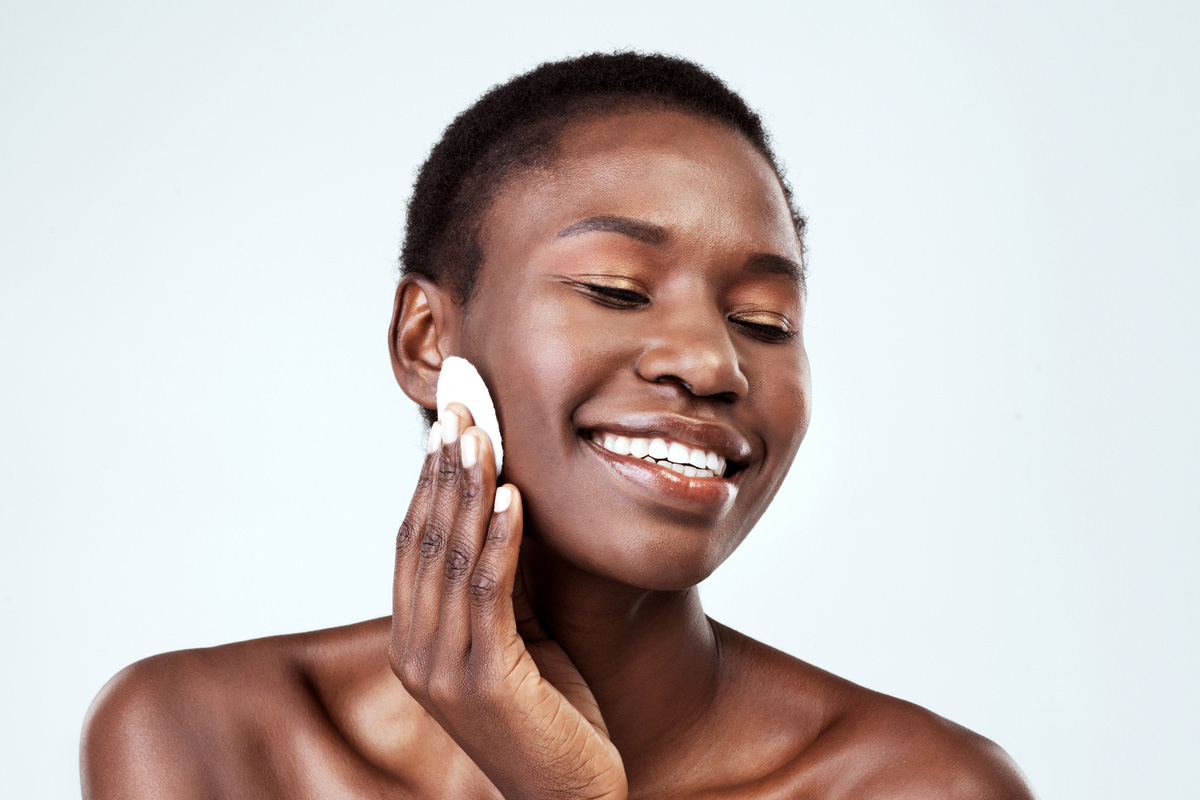 Get the Sustainable Beauty report
For more insights like these, download the full Sustainable Beauty report.