Multiple factors lead to revival
The second quarter of 2022 heralds the onset of cautious optimism among Indian consumers, after seeing two quarters of a consumption decline.
In Q2 2022, urban markets have revived with a positive volume growth of 0.6%, while rural markets are in a slower recovery of -2.4%. The industry also observed positive momentum in volume along with price-led growth. The volume growth in the previous quarter was –4.1%, while this quarter the growth improved to –0.7%, primarily led by a jump in unit growth. The channels have also observed positive momentum with modern trade volume growth at 7.8%, compared to 5.5% in the previous quarter and traditional trade showing signs of recovery, with volume growth of –1.5% in Q2 2022 versus –4.9% in the previous quarter.
---
Consumption recovery led by unit growth
Despite a flat volume driven by a drop in average pack size growth, unit growth has bounced back to 8.9% this quarter from 1.5% in the previous quarter. This indicates that consumers are buying smaller packs, however at a higher quantity of units, thereby driving the overall growth in volume seen in the second quarter.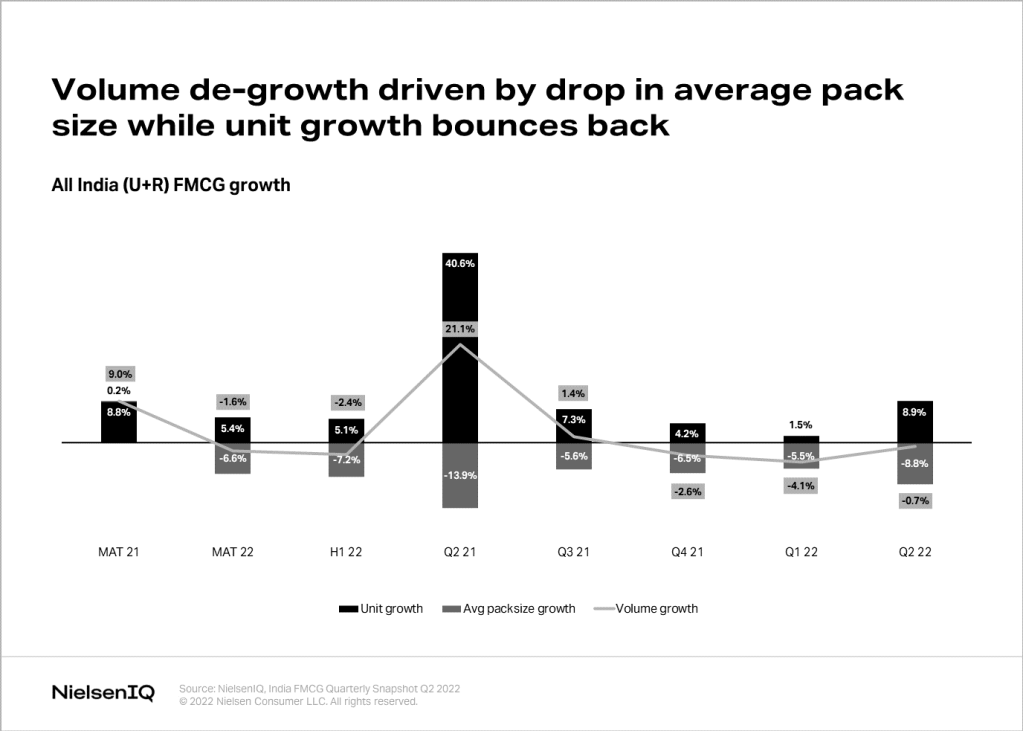 We analysed NielsenIQ's Retail Measurement Services data for key contributing categories, across food and non-food, to understand the grammage reduction for key price packs and found continuous drop in grammage for the same price packs across many categories. This correlates with the drop seen in average pack size growth across both food and non-food categories. At the same time, consumers continue to prefer smaller packs, which is evident by the high unit growth, and grammage reduction is a catalyst for this behavior to some extent.
Manufacturers and retailers must keep an eye on the changing consumer preferences and manage their portfolio accordingly. It is imperative that small pack sizes are available in the maximum number of stores to meet the increasing consumer demand.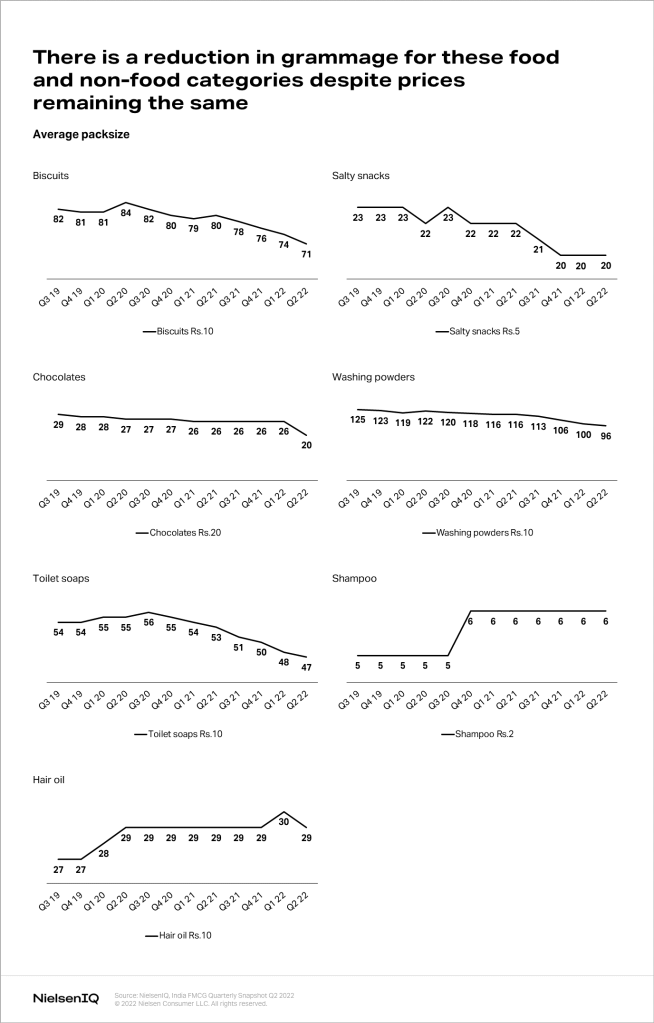 ---
Small manufacturers back on track
While volume decline continues for medium and large manufacturers, small manufacturers (less than Rs.100 Cr. turnover) have recovered to a positive volume growth of 1.8% in Q2 2022. This recovery is primarily driven by the food segment with a growth of 5.6%, compared to –5.5% in the previous quarter. Despite an uptick from the previous quarter, non-food continues to show a negative volume growth of -13.8% in this quarter, compared to -20.4% in the previous quarter.
---
Food segment volume grows positively
The food segment has seen positive volume growth of 1.8% in Q2 2022, especially with impulse categories such as chocolates and salty snacks growing by 15.1%. Despite the non-foods segment remaining in the negative, there is a marginal uptick from –9.6% in the previous quarter to -6.4% in Q2 2022. Within the non-foods segment, non-essential personal care categories such as perfumed deodorants and cologne saw over a 40% volume growth, buoyed by the summer season, and consumers heading out for both work and leisure activities as they get back to their normal routines.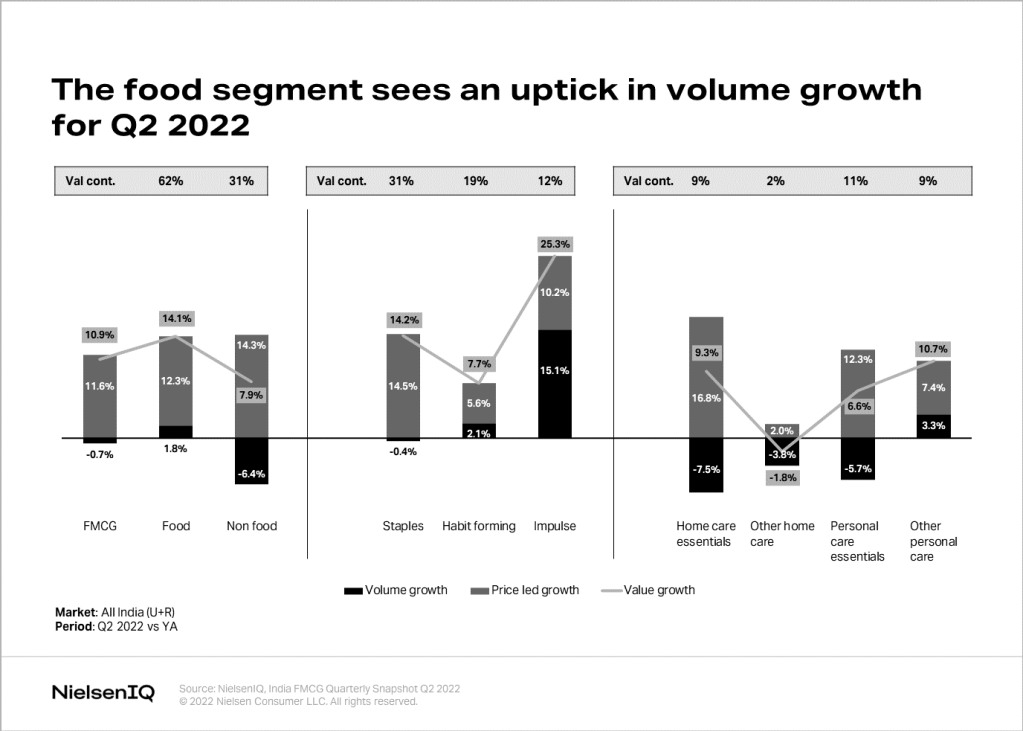 ---
Expect double-digit growth by the year's end
FMCG in India had a value growth of 8% in the first half of 2022. Looking at the consumption revival and the overall positive outlook, we forecast a double-digit growth for the industry by the end of 2022. This growth is slated to be between 8-10% considering headwinds and tailwinds that may include impetus from the government, inflationary pressures, and other key macro-economic factors. The second half of the year is also driven historically by the festive season, where consumers are slightly more open with their wallets, giving the additional push to FMCG consumption.
The retail landscape is shifting and there are opportunities for growth. However, for brands to make the most of these opportunities and stay relevant in this ever-changing environment, they need to spot these shifts early. NielsenIQ's industry-leading Retail Measurement Services (RMS) provides an accurate view of FMCG retail channel trends and performance to help manufacturers and retailers identify opportunities, make better strategic decisions, and drive growth for their business.