Canadian consumer shifts to know
What are Canadian shoppers buying today? Despite inflation, sales have remained relatively constant overall. However, there are important new consumer behaviors to keep in mind.
A shift to discounters: More shoppers (+2%) are shifting to discount stores as they seek ways to save money in the face of rising inflation. Shopping at mass merchandisers is likely another strategy shoppers are using to lower spending.
A decline in Thrivers: More consumers (+3%) are reporting themselves to be Strugglers in today's environment while the number of Thrivers has declined 3%.
A winner in channel growth: Online sales growth (7%) is far outpacing in-store growth (3%).
---
A cornerstone of the changing FMCG landscape
Although online is still relatively small, it has risen substantially over the past two years: today, its growth is almost double that of offline. There is a clear case for why CPG manufacturers should want to learn more about this channel and build strategies to optimize their customers' virtual journeys.
Just how far has online shopping come in Canada? Two years ago, online sales accounted for 1.9% of the total FMCG market in Canada; in the latest 52 weeks, it stands at 3.3%. Additionally, 42% of Canadian households—almost half— have bought consumer goods online in the past year.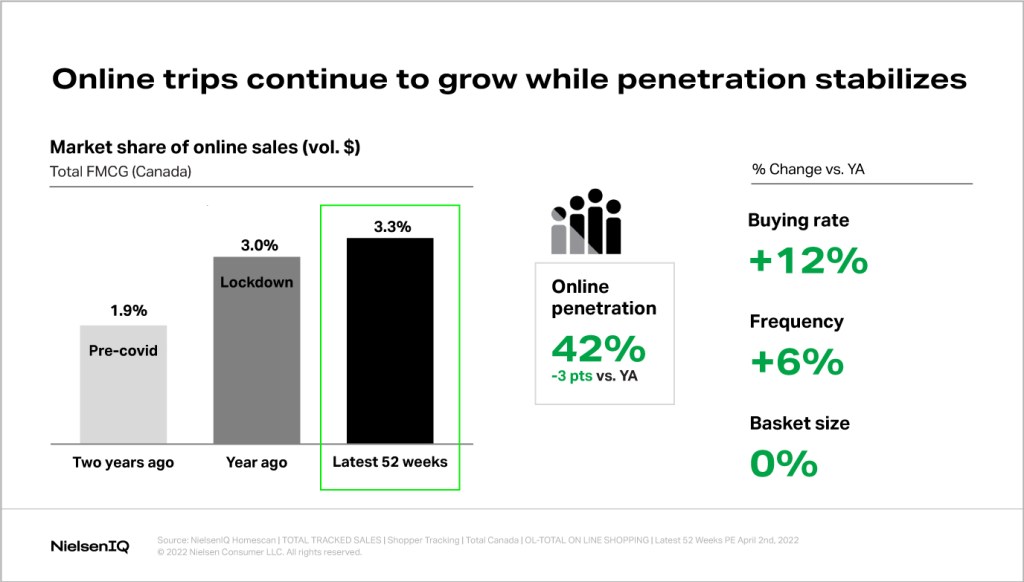 The percentage of households purchasing online (penetration) has declined moderately, which is unsurprising since many COVID-19 restrictions have eased in the region. But it still represents a large opportunity for CPG manufacturers.
Canadians are also spending more on average on online purchases than in the past—their buying rate increased 12% in the latest 52 weeks. This increase suggests that a large percentage of Canadian consumers enjoy online shopping and are using this channel more often.
Online shopping is even more important among omnishoppers, consumers who purchase goods both online and in-store. The numbers provide an even clearer indication of online shopping's potential. When we look at those consumers specifically, the market share of online is 6.4%—almost twice the 3.3% market share represented by all Canadian households.
---
Omnishoppers are a valuable cohort
Omnishoppers are a lucrative cohort to attract for several reasons. According to NielsenIQ research, omnishoppers:
Spend 30% more per shopping trip when shopping online versus in-store
Spend 25% less on promotion when shopping online
Have diverse household needs and demographic profiles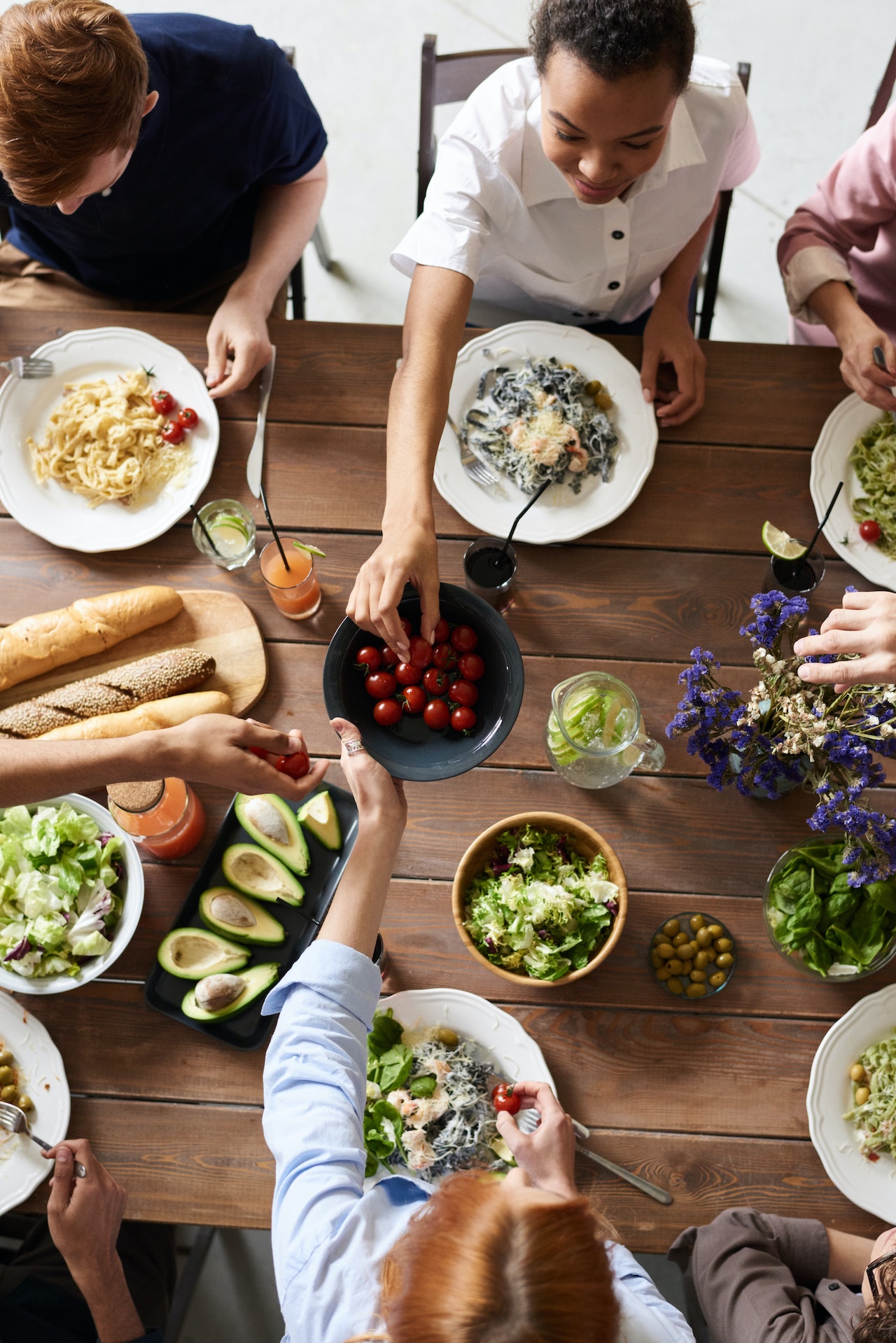 Know your omnishopper
NielsenIQ data shows that the omnishopper household is more likely to:
Have children younger than six years old
Have 3 or more members
Be Asian
Earn income under $29k
Include a cat owner
Winning online requires targeting and personalization, and manufacturers cannot compete without knowing who their shoppers are. Understanding shoppers is important for building effective strategies to reach them and considering critical decisions such as assortment.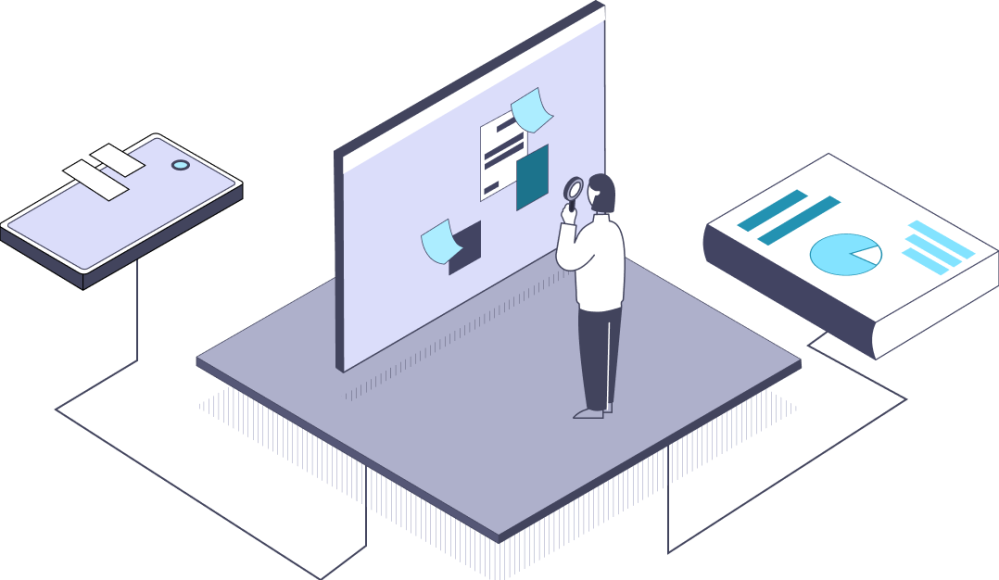 Taking the next step: Tracking the full Canadian Shopper Journey
Watch our webinar recording to learn more about the important and emerging consumer segment shaping the Canadian CPG industry and how to develop a strategy around them.
---
What are Canadian shoppers buying online?
Food represents over 60% of online sales. Although it takes the clear lion's share, it has still not reached its full potential: there is more room to grow. One key reason for this underdevelopment is fresh products: shoppers want to select fresh foods themselves based on expiration dates, freshness, and more.
However, there is still strong growth across all food-related departments. Canadian consumers also show strong spending in non-grocery (21%) and health and beauty (16.4%).
Taking a deeper dive into the departments, there is growth across a variety of categories. Food products such as beverages, baking ingredients, prepared foods and condiments are on the rise. Non-food categories performing well include household, paper, and pet products. The latter is no surprise given that omnishopper households are more likely to contain a cat owner.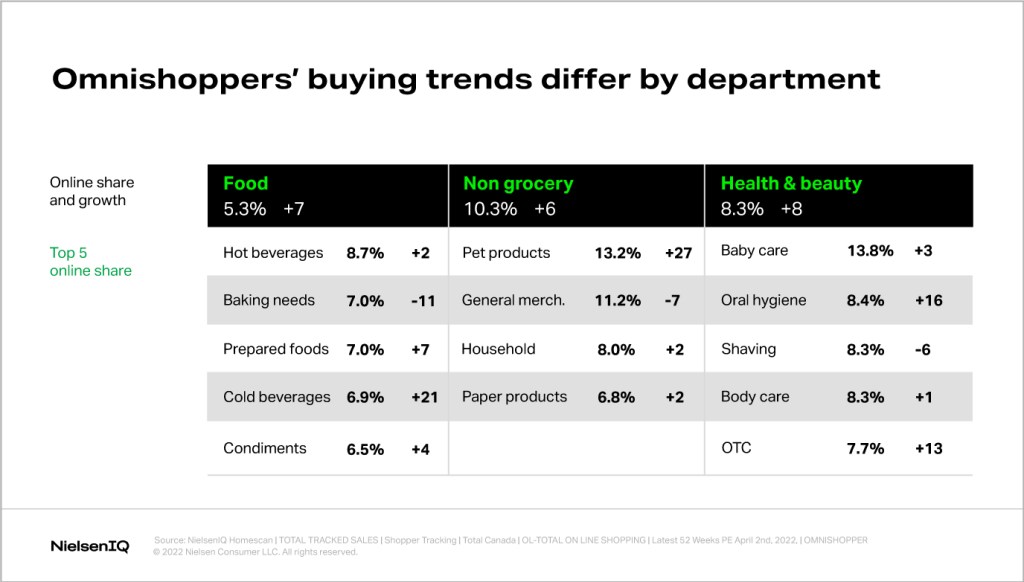 Within health and beauty, categories showing strong growth include Oral Hygiene, Body Care, and Baby Care, aligning with omnishoppers' tendency to have young children in the household.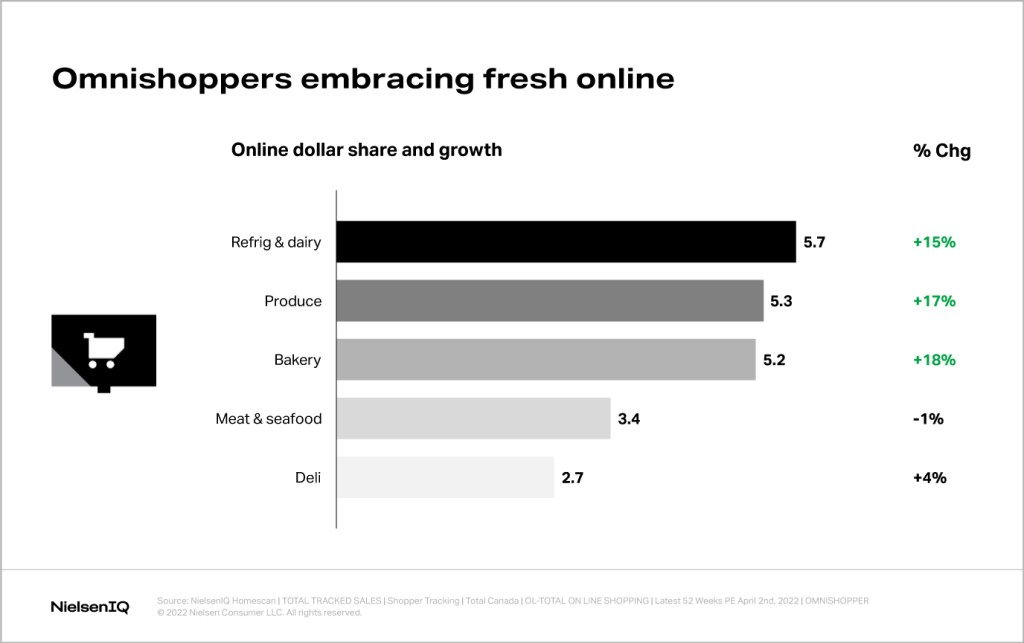 Although fresh foods purchases are less common in online shopping, there is a significant amount of growth in many fresh departments online, including Dairy, Produce, and Bakery.
---
Online is here to stay. Are you ready?
Given the market penetration, the increase in online spend and purchase frequency, and other evolving shopping habits of Canadian consumers, it's clear that online shopping is not going away. To tap into the coming $4+ billion opportunity online shopping represents, CPG manufacturers are enhancing the online experience for shoppers, devising plans to engage omnishoppers, and building strategies to track the full shopper journey both online and in-store.