BASES Restaurant innovation capabilities

Predictive analytics for better decisions
Growing your restaurant through innovation can be a challenge. Incomplete, unreliable or outdated research can slow you down and drive poor decisions. Overcome these obstacles with BASES. Our solutions are grounded in predictive insights that take into account the unique buying dynamics in the restaurant industry and the nuances of your guests.
Success in the restaurant industry boils down to:
Meeting evolving guest needs
Getting the most of your marketing levers
Maximizing margins
The BASES innovation ecosystem
Your innovation needs

Although the process is shown as linear for the sake of example, there is typically some amount of iteration and there are multiple points from which you can begin.
Activation Profiles for Restaurants
Analytical framework included on any concept test that segments your restaurant innovation opportunities based on strategic potential
Evaluate tangible activation strategies and implications by looking at different pathways to success
Make better decisions using discriminating, predictive, and proprietary BASES analytics
BASES Volumetric Forecasting
Best-in-class, restaurant industry-validated
Simulated market forecasts within ±9% of sales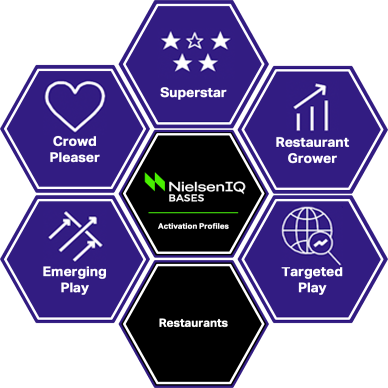 Stay ahead by staying in the loop.
Don't miss the latest insights, offerings, and opportunities from BASES
By clicking on sign up, you agree to our privacy statement and terms of use.